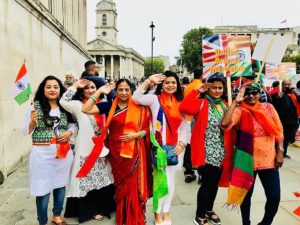 The Overseas Friends of BJP (UK) led the counter demonstration to the event held in Trafalgar square in London, by a US based group called 'Sikh for Justice' on Sunday, 12th August 2018. Many other pro-India organisations participated in the demonstration. Although less in number, the self-motivated group of India sympathisers outperformed the separatist group by singing patriotic songs, dancing with the accompaniment of Dhol and performing group dances as well as shouting slogans such as 'vande matram', Bharat Mata ki Jai.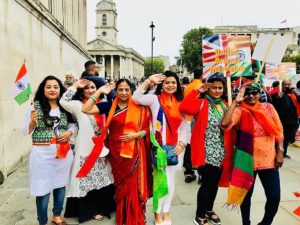 How out of place the event  called – 'London declaration to hold referendum in 2020' was, became clear as the participants seems to have been hired from other towns of UK and overseas. Many of them were suspected to be illegal immigrants. They were made to look like 'sikh' by tying the turban to them, at the site, as is clear from the accompanying photograph.  Hardly anyone of them was Indian citizen. They had no answer when asked 'what is the rationale of organising an event in London of a 'alleged problem in India' when none of the India's sikh support their demand, as was clear from the statement of Punjab's chief minister Amrinder Singh, Shiromani Akali Dal, Congress leader and former law minister Ashwani Kumar as well as chairman of British Sikh Association Dr Rami Ranger.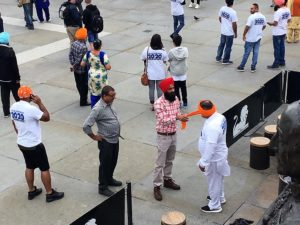 It became amply clear as to who has supported organising and financing this event when pro-Pakistan member of House of Lords Nazir Ahmed spoke in support. Government of India has already mentioned it being sponsored by Pakistan's ISI.
It is worth mentioning that all the participants in support of India were self-sponsored who spent their own money in travelling to the place with a good number of women participants.
Dr Anand Arya
Vice President & Official spokesperson
Overseas Friends of BJP (UK)