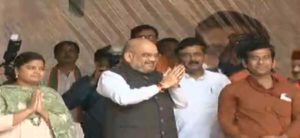 Kolkata: Bharatiya Janata Party (BJP) president Amit Shah on Saturday made it clear that his party would fight the 2019 Lok Sabha elections in West Bengal on the planks of National Register of Citizens (NRC) and illegal infiltration from Bangladesh.
Shah, who was addressing a rally organised by the BJP's Yuva Morcha on Kolkata's Mayo Road, said: "I would like to ask Mamata ji why she is protecting Bangladeshi infiltrators. Rahul Gandhi is also not clarifying his stand on this issue. They are raising their voice against NRC because these Bangladeshi infiltrators are their vote bank in Bengal. But we will not let this happen. We will go ahead with the NRC plan and push back each and every infiltrator."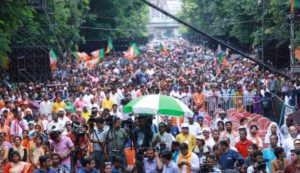 Amit Shah targeted the Trinamool Congress and Chief Minister Mamata Banerjee for "protecting" illegal immigrants. He added that the party should clarify its stance on the issue.
"Why is Mamata Banerjee protecting Bangladeshi infiltrators?" Shah questioned, adding that illegal infiltration should be stopped in order for West Bengal to develop. "You can oppose us as much as you want, but we will not stall the process of NRC. Neither Mamata or Congress chief Rahul Gandhi can stop the BJP from doing it."
He added, "We should be worried for Bengal's Hindus and Muslims because there are no jobs for them. If we don't stop this infiltration, how will Bengal develop? The only solution to the problem is NRC.
"I am not against Bengal but against the Mamata government. She (Mamata) made a huge issue over NRC. She even said this would lead to a civil war. I would like to clarify today that we are not going to stall the process of NRC. We will drag out each and every infiltrator from India."
"These Bangladeshi infiltrators are TMC's vote bank and now they have added Rohingyas also and are sheltering them in Bengal. The central government will amend the Citizenship Act to accommodate refugees from Pakistan, Bangladesh and Afghanistan. Opposition has to decide whether it will support that amendment or not."
He said BJP workers would go to each district to expose the misrule of the TMC government in Bengal. "Please keep your ears open and hear me well, I am going to oust your government from Bengal. The sea of people here clearly shows that 'parivartan' is inevitable in Bengal," he added.
"The party's winning streak across the country is meaningless until we seize power in Bengal. The BJP is ruling in 19 states but I believe that these victories are meaningless until we win over the place of Syama Prasad Mookerjee and Rabindranath Tagore. Let us give a chance to Narendra Modi." He added that Banerjee was elected as she fought against corruption but "you can see scam everywhere in Bengal".
Meanwhile, BJP MP Babul Supriyo claimed that local channels in the state were forced to black out Shah's speech.