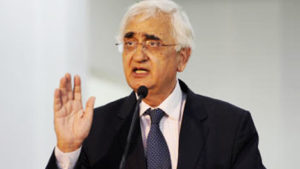 Senior Congress leader and former law minister Salman Khurshid has stirred a controversy by saying that his party's hands "are stained with the blood of Muslims".
The former Union minister made the controversial remark during an interaction session with students at Dr BR Ambedkar Hall in Aligarh Muslim University(AMU). Khurshid, while replying to a question by a former AMU student, Amir Mintoee, on the series of communal riots that happened during the decades of Congress rule said, "There is blood on our hands too."
"I am a part of Congress. So, let me accept that we have the blood of Muslims on our hands," Khurshid added when students pointed out that Mintoee was referring to the Congress party as a whole.
"I understand why you are asking this question. You are telling us that if someone attacks you now, then we (Congress) must not come forward to protect you. I am telling you this: we are ready to show the blood on our hands so that you understand that you too must not get blood on your hands," Khurshid said.
"If you attack a community, you are the ones who get stains on your hands. Learn something from our history and don't create such a situation for yourself, where if you come back to AMU after 10 years you will find someone like yourself who will ask this kind of question," the former minister said.
According to ANI news agency, Khurshid was replying to a question asked by a former AMU student, about the 1984 anti-Sikh riots and the riots following the Babri Masjid demolition in 1992, when the Congress was in power at the Centre.
It was in reference to these instances that Khurshid talked about the Congress having blood on its hands. He said he understood why he was being asked this question.
The senior Congress leader then said this should be learning experience for others.