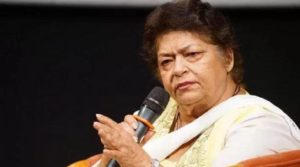 Veteran choreographer Saroj Khan has defended the casting couch culture, saying the Indian film industry "at least" provided jobs and did not abandon women after raping them. She was replying to a question a question from a journalist in Sangli on Telugu actor Sri Reddy stripping in protest against the casting couch culture in the Telugu film industry.
Her comments that come in the wake of the #MeToo campaign which calls out sexual offenders, Ms.Khan put the onus on the woman and said the casting couch was not a new phenomenon with "anyone and everyone", including people in the government, indulging in it.
This National award-winning choreographer is known for her extraordinary dance moves, however, it is apparent that she has now made headlines for her "not-so-appreciated" comment on the issue of the casting couch. She is renowned for choreographing songs like "Ek DO Teen" and "Choli Kay pechay Kya hai"
The onus of staying safe and avoiding such situations was on women and pressed the media not to target the film industry. She added
"It's upon the girl – what does she want to do? If you don't want to be caught, you won't. When you are an artiste, why will you sell yourself? Don't say anything about the film industry. It's like our mother-father. (Yeh ladki ke upar hai ki tum kya karna chahti ho. Tum uske haath mein nahi aana chahti ho toh nahi aaogi. Tumhare paas art hai toh tum kyun bechoge apne aap ko? Film industry ko kuch mat kehna, woh humaara mai-baap hai)," she said.
"This has been happening since time immemorial. Anyone and everyone tries to get cozy with every girl. Even people in the government do it. Why are you after the film industry? At least the industry provides employment. It is not as if you are raped and abandoned. (Yeh chala aa raha hai baba aadam ke zamaane se. Har ladki ke upar koi na koi haath saaf karne ki koshish karta hai. Government ke log bhi karte hain. Tum film industry ke peeche kyun pade ho? Woh kam se kam roti toh deti hai. Rape karke chhod toh nahi deti),"