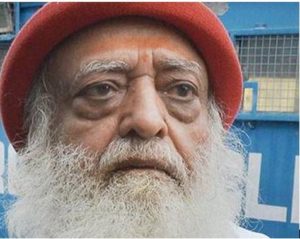 A Jodhpur court on Wednesday sentenced self-styled godman Asaram to life imprisonment after finding him guilty of raping a teenage girl in his ashram five years ago.
Asaram will be in prison till his natural death. The Godman's two other accomplices, Sharad and Shilpi, were sentenced to 20 years each in jail in the case while remaining co-accused Shiva and Prakash were acquitted.
His followers — who, by some estimates number close to 40 million — have vowed to vote oust the BJP in the next elections. They claim that today's judgment by a Rajasthan court, which put the 77-year-old behind the bars for the rest of his life, was engineered by the BJP.
A press note headed "Bapuji's crores of followers will shunt out the BJP in the coming elections" accused the government of interfering in judicial decisions, citing the recent Supreme Court verdict in the judge Loya case.
"The BJP's interference in judicial matters is clearly visible" the note read, linking the verdict to the subsequent impeachment notice by the opposition.
"In the Asaram Bapu verdict, we cannot rule out that BJP may have tried to influence the judiciary. There might be a political interest involved here in view of the upcoming elections. The party may be trying to save its skin and take credit," the note read.
Asaram was booked for sexual assault, raping and illegally confining a minor under several sections of the POCSO Act and SC/ST (Prevention of Atrocities Act).The 77-year-old spiritual guru has always denied raping the then 16-year-old in 2013 during a spiritual retreat at his ashram in Jodhpur.
Among his admirers are former union minister Uma Bharti Chief Minister Raman Singh, Rajasthan Chief Minister Vasundhara Raje and ex-ministers Kapil Sibal, Kamal Nath and Ashok Gehlot of the Congress.
The kin of the Delhi gang-rape victim Nirbhaya also hailed the life imprisonment awarded to Asaram in the rape case. The self-styled godman had defended the culprits who brutally raped a 23-year-old woman and instead held the victim responsible for it, saying: "Galati ek taraf se nahi hoti (mistake is never committed from one side alone)."
"Asaram is a demon under the garb of sadhu…We are also feeling relieved after the Jodhpur court verdict," Nirbhaya's grandfather said.