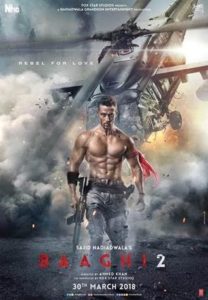 Fire, fury, action and love: the much-awaited and spectacular trailer for Sajid Nadiadwala's Baaghi 2 has been released. Tiger Shroff returns in Ahmed Khan's sequel to the 2016 hit film Baaghi, and is joined by Disha Patani (M.S. Dhoni: The Untold Story, Kung-Fu Yoga).
 The trailer was unveiled before a live audience at a special event that was streamed on Facebook live
 Baaghi 2 showcases Tiger Shroff in a much more muscular and deadly avatar compared to the prequel. In the film, an army officer goes in search of his ex-lover's child who is mysteriously kidnapped. Neha (Disha Patani) reaches out to the only person who can help her with her plight, Ronnie (Tiger Shroff). Ronnie goes deep into the underbelly of Goa, facing off against drug lords, menacing Russian henchmen, and blood thirsty animals. Daring stunts, chase sequences, air strikes, bomb blasts and other large-scale action sequences create a bona-fide, larger than life approach, truly making it a spectacle.
 The trailer sees Tiger Shroff up against a new set of challenges unlike any he's faced before. We see the skilled martial artist fight, shoot and battle his way through a host of new foes with a fiery passion and determination alongside Disha Patani, showing that he is still the rebel for love we remember.
 The film also stars Randeep Hooda (Sultan), Manoj Bajpayee (Aligargh) and Prateik Babbar (Umrika) in pivotal roles. The filmmakers promise to raise the standard for action thrillers in Bollywood with the film's high octane action sequences.