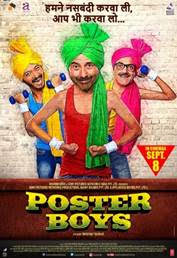 Acclaimed Indian cinema heavyweights Sunny Deol, Bobby Deol and Shreyas Talpade seen in a new avatar in and as the "POSTER BOYS"- a comedy-drama inspired by a real-life incident of three ordinary people who, to their surprise, find their picture on a poster promoting vasectomy.
 Presented by Dharmendra and Sony Pictures Networks Productions and produced by Sony Pictures Networks Productions, Sunny Sounds and Affluence Movies, POSTER BOYS is slated to release worldwide in cinemas on 8 September 2017.
 POSTER BOYS is the official remake of the 2014 Marathi Language smash-hit Poshter Boyz which was produced by Indian actor Shreyas Talpade, who now makes his directorial debut with this Hindi remake.
 The trailer and poster of the film firmly established the funny bone of POSTER BOYS which attempts to highlight the relevant and taboo issue of vasectomy using a satirical yet entertaining approach through the medium of cinema. When the trio see themselves plastered on posters around their town, they are ridiculed by fellow villagers and their family. The humiliation however encourages them to go on a mission to prove they are the victims of the "system".
 The three villagers who find themselves on the epic poster are:
 ·  SUNNY DEOL as Jagaavar Chaudhary, a retired Subhedar Major from the Indian Army. All his life he has spent on different stations away from his family. Now after a voluntary retirement he looks to spend time with his loved ones. He is obsessed with taking selfies and is a romantic at heart contradictory to his rough tough exterior. While his world revolves around his family, Jagaavar is a man of great virtue and will go to any end to protect his integrity and the truth;
·  BOBBY DEOL as Vinay Sharma, a kind hearted, innocent and genuine school teacher. He speaks in pure Hindi but keeps forgetting what he wants to say mid-sentence. He is married with two daughters and is a loving husband. Since he is an orphan, he does everything in his power to help his family close-knit. His wife, however, is constantly agonised because they don't have a son;
·   SHREYAS TALPADE as Arjun Singh, a recovery agent but with a heart of gold. He is daft and has a crazy awful fashion sense. The only child to his overtly filmy parents, Arjun is spoilt but still very genuine and likeable.He is always accompanied by his two best friends, both dumber than him. Arjun is madly in love with his girlfriend, Ria who he is now looking forward to getting married to.
 The music of the film has been composed by a string of top directors including Tanshik Bagchi, Sunai Marathe, Shreyas Iyengarand Sonny Ravan whilst the lyrics have been penned by Shabbir Ahmed, Javed Akhtar, Kumaar, Saurabh Pandey and Sonny Ravan. In traditional Deol panache, POSTER BOYS takes Punjabi Power to new heights with compositions by British Asian artistRishi Rich and the iconic Punjabi music artist Daler Mehendi who has recreated his hit track 'Kudiyan Shehar Dia' from the 1999 film Arjun Pandit.