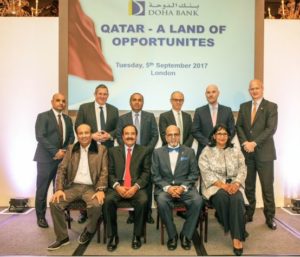 A knowledge-sharing session on "Qatar – land of opportunities" was hosted by Doha Bank at Le Meriden Piccadilly Hotel, London, yesterday. The key dignitaries included Ali Ibrahim Abdullah al-Malki, independent board member, Doha Bank Group; Sanjay G Hinduja, Hinduja Group of Companies; and Baroness Verma, Parliamentary Under-Secretary of State for International Development and Brexit Relations.Dr R Seetharaman, CEO, Doha Bank, was the keynote speaker and gave the concept note.
On Qatar economy, he showcased the various developments in the country since the beginning of the blockade and how it had managed the situation. He said, "Qatar has a reserve of $340bn including assets of its Sovereign Wealth Fund, QCB reserves cash and Gold. Together, Qatar's reserves are more than 200% of its GDP. Qatar banking asset growth was close to 2.5% YTD till July 2017. The overall lending growth was close to 6% YTD until July 2017.  The deposit growth was close to 6% YTD till July 2017. Qatar's net trade surplus for July was QR11.9bn."
Seetharaman highlighted on the recent reforms brought by Qatar. He said "Qatar ranked 18th in 'the Global Competitiveness Report 2016-17' and stands second in the region. A new law for Public Private Partnership (PPP) businesses in Qatar should provide an additional level of comfort to the private sector and foreign investors.
In February, Qatar issued a new law on arbitration inspired by the UNCITRAL Model Law, an international template for law on arbitration. The Arbitration Law is a positive step towards support of the arbitration process.  A law governing the Qatar Financial Centre (QFC) is aimed at simplifying procedures for foreign investors. In terms of food security, Qatar now has many local companies that are supporting the country and it can develop these businesses further and boost its food production to provide both locally and internationally.
Qatar Budget 2017 has allocated for key sectors such as health, education and infrastructure QR87.1bn, which is made up of nearly 44% of the total expenditure in the 2017.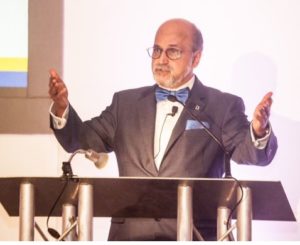 Qatar's landmark residency plan is a welcoming social and economic reform. It will attract skilled expats to have a career in Qatar. It will also encourage investors as they would be able to launch business ventures. It will help migrants to further integrate with Qatar's society. On the whole, the landmark residency plan will enhance expatriates' participation in Qatar's economy and society in various forms and thereby contribute to sustainable growth of Qatar. Qatar has also waived entry visa requirements for citizens of 80 countries.
On Qatar-UK bilateral relationships, he said,  "Qatar-UK trade is worth more than £5bn. Food imports from UK have come to Qatar after the recent economic blockade. Nearly a third of UK gas imports come from Qatar.
Qatar has already invested more than £40bn across Britain, including in iconic real estate including London's Shard building and the Harrod's department store. Despite the Brexit development impacting UK and the economic blockade impacting Qatar, UK has always remained an important trade and investment destination for Qatar and will remain so and hence Qatar and UK can continue to explore the growing synergistic opportunities between them."