Based on the book Victoria & Abdul: The True Story of the Queen's Closest Confidant by Indian author Shrabani Basu, the film explores the "hidden" true story of the unlikely friendship between Queen Victoria (Judi Dench) and her humble servant from India Abdul Karim (Ali Fazal).
 The upcoming biographical drama sees academy award winner Judi Dench (Shakespeare in Love) reunite with Academy Award-nominated director Stephen Frears (The Queen, Philomena, Mrs. Henderson Presents) and return to the role of Queen Victoria.
Portraying the role of the young clerk Abdul Karim – also known as the Munshi – is Indian stage and film star Ali Fazal. Victoria & Abdul also features a strong line-up of leading film, television, and stage personalities including Eddie Izzard who performs the role of Bertie, Prince of Wale, Tim Pigott-Smith (The Jewel in the Crown) who performs the role of Sir Henry Ponsonby, and BAFTA Award winner Adeel Akhtar (Murdered by My Father) who portrays Abdul's loyal friend Mohammed, condensing a star-studded cast.
The extraordinary true story of an unexpected friendship in the later years of Queen Victoria's (Academy Award winner Judi Dench) remarkable rule. When Abdul Karim (Ali Fazal), a young clerk, travels from India to participate in the Queen's Golden Jubilee, he is surprised to find favor with the Queen herself. As the Queen questions the constrictions of her long-held position, the two forge an unlikely and devoted alliance with a loyalty to one another that her household and inner circle all attempt to destroy. As the friendship deepens, the Queen begins to see a changing world through new eyes and joyfully reclaims her humanity.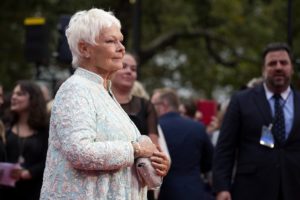 The idea of the story began in 2001 when Basu was researching a book on the history of curry. After learning that Queen Victoria enjoyed eating curries, Basu visited Osborne House, Victoria's Isle of Wight residence, and was most intrigued to see two portraits and one bronze bust of a regal-looking Indian man. In Victoria's dressing room, she spotted another portrait of the Indian man, situated directly beneath that of Victoria's beloved John Brown. On a larger scale, Osborne's Durbar Room, crammed with treasures from India, was a monument to Victoria's fascination with "the jewel in the crown;" even though she was the Empress of India, she never visited.
 In an attempt to conceal the relationship between Queen Victoria and Abdul, The Queen's son Bertie, later King Edward VII, had destroyed all correspondence between his mother and the Munshi – but had not thought to touch her Hindustani journals. In those journals, Basu discovered the story of Queen Victoria and her beloved Munshi, Abdul Karim. Handwritten by Victoria in Urdu, the journals had sat in the Royal Archive, entirely left out of any and all Western versions of Victorian history because none of the historians read Urdu. His diary gave Basu a first-hand account that confirmed much of what she had found in the Queen's Urdu writings.