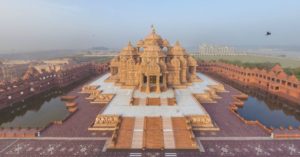 Ahmedabad, July 9: Former capital of Gujarat, Ahmedabad has been declared as a World Heritage City at the 41st session of United Nations Educational, Scientific and Cultural Organisation (Unesco) world heritage committee being held at Krakow in Poland on Saturday.
Notably, Ahmedabad which is the home state of Prime Minister Narendra Modi and the city which was also the center for India's non-violent freedom struggle led by Mahatma Gandhi yesterday created history after it became the first city from India to make its way to the World Heritage list. The nomination of Ahmedabad was supported by close to 20 countries, including Turkey, Lebanon, Tunisia, Portugal, Peru and Kazakhstan.
The World Heritage Committee while including Ahmedabad in its World Heritage list, said "The walled city of Ahmadabad, founded by Sultan Ahmad Shah in the 15th century, on the eastern bank of the Sabarmati river, presents a rich architectural heritage from the sultanate period, notably the Bhadra citadel, the walls and gates of the Fort city and numerous mosques and tombs as well as important Hindu and Jain temples of later periods.
"The urban fabric is made up of densely-packed traditional houses (pols) in gated traditional streets (puras) with characteristic features such as bird feeders, public wells and religious institutions. The city continued to flourish as the capital of the State of Gujarat for six centuries, up to the present," the committee added.
The Ambassador and Permanent Representative of India to UNESCO, Ruchira Kamboj on this occasion said, "Ahmedabad is where our Indian heritage speaks for itself. For over these 600 years it has stood for peace as a landmark city where Mahatma Gandhi began India's freedom struggle."It has stood for unity with its elegant carvings in its Hindu and Jain temples, as well as standing as one of the finest examples of Indo-Islamic architecture and Hindu-Muslim art," she added. Kamboj further said, "And beyond this, it epitomises the United Nation's objective of sustainable development as it accelerates in its development, chosen to be one of India's first smart cities while preserving its ancient heritage."
Gujarat Chief Minister Vijay Rupani and BJP president Amit Shah tonight hailed the declaration of Ahmedabad as world heritage city by UNESCO. Expressing delight at the announcement, Rupani said in a tweet, "Thrilled to learn that Ahmedabad has been recognized as UNESCO World Heritage city, first of its kind in India". On the other side, BJP National President Amit Shah tweeted and said, "Delighted to know that UNESCO has declared Ahmedabad as World Heritage City. Proud moment for every Indian."