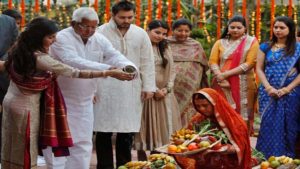 The Central Bureau of Investigation (CBI) on Friday registered a case against former Railways minister Lalu Prasad Yadav, his wife Rabri Devi and his son Tejashwi Yadav on corruption charges during his tenure as Union minister in 2006.  The CBI is carrying out raids at 12 locations, including the premises of Lalu Prasad Yadav, in Delhi, Patna, Ranchi, Puri and Gurgaon. Rabri Devi's current residence 10, Circular Road has also been raided by agency officials. Raids in New Delhi were being conducted in New Friends Colony. In Odisha, raids were carried out at Chanakya BNR Hotel in Puri.
The case is related to alleged irregularities in tenders allotted to a private company Sujata Hotels for development, maintenance and operation of BNR hotels at Ranchi and Puri. The BNR hotels are Railways' heritage hotels which IRCTC took over from the public transporter earlier in the same year.
Former Managing Director, Indian Railway Catering and Tourism Corporation Ltd (IRCTC) P K Goel, Sujata, wife of Yadav's confidante Prem Chand Gupta, two directors of a private company, have also been booked by CBI in connection with the case, among others.
Speaking to reporters, Lalu Prasad described the raids as "witch hunt". "The raid is a witch hunt; There is no illegality. I have done nothing wrong," Yadav said. "No wrong was done in the tendering, this is a BJP conspiracy.Me and my party will not be cowed down," he further added
BJP Leader Giriraj Singh spoke to news agency ANI, and said that Bihar Chief Minister Nitish Kumar can no longer remain quiet on corruption charges against Lalu Prasad Yadav. "Law is taking its course. Now Nitish Kumar ji cannot remain a mute spectator. He will have to speak out and state his stand clearly," Singh said. "Now, Nitish Kumar has to decide if he wants to stay with Lalu Prasad, who is already a convict in corruption case," he added.