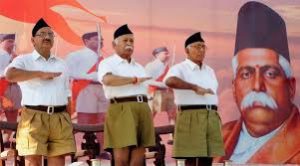 By Lakshmi Iyer  
The Rashtriya Swayamsevak Sangh is planning a free and frank interaction with top political brass of the country next month with its sarsanghchalak Mohan Bhagwatin Delhi at the Vigyan Bhawan. Though it may seem as if it is coming at the back of CongressPresident Rahul Gandhi's comment last week comparing the Sangh to Muslim Brotherhood of the Arab world, the three-day lecture series on the theme 'Future of Bharat: An RSS Perspective' was apparently planned six months ago. It will be held between September 17 and 19.
"We will invite leaders of all political parties for the interaction with our sarsanghchalak," said RSS' national spokesperson Arun Kumar. The interactive session will apparently be held on the last day of the session. Explained a Sangh source, "Invitations will go out to Rahul Gandhi, Sitaram Yechury, Mayawati, leaders of small and big parties. Whether they choose to attend the interactive session or not is up to them." Such a session is being held for the first time in the history of the organisation. Was it being done because the 2019 Lok Sabha polls is around the corner? Or was it because of comments made by Rahul Gandhi?
"Where is the need for us to be defensive because of Rahul Gandhi's comments? We are taking our views and our work to people," said Delhi BJP leader Rajiv Tuli.
In a delayed response to Rahul's comment equating the RSS with Egypt's Muslim Brotherhood last week, the Sangh played it down saying perhaps he made the comment as he was still learning about India. "If he knew India, he would not be making such observations about the RSS," said Kumar. He said people across the country wanted to know and associate with the RSS. "We expect a number of distinguished people to take part in this event," he said.
Source :Mumbai Mirror