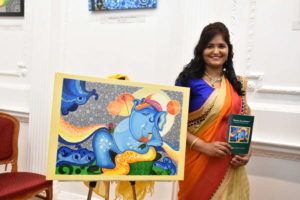 INTERNATIONAL GROUP SHOW – LONDON

Event will be inaugurated by following and other eminent guests:

. Bharulata Patel-Kamble (Chairperson) First woman in the world to drive solo through 32 countries in only 57 days, recipient of national honour by the Hon. President of India

· John Carrigan (Chief Guest) – Actor and Martial Artist

· Satya Minhas (Chief Guest) – Chairman for Metropolitan Police Hindu Association

Exhibition Name: "Art Elements"
Adding colourful elements to life!

Inauguration: Saturday, 25th Aug' 2018 @ 11:30 AM

Exhibition: Saturday, 25th Aug' to Monday, 27th Aug' 2018, 11:00 AM to 7:00 PM

Venue:

Bharatiya Vidya Bhavan, 4a Castletown Road,

M P Birla Millennium Gallery

(Entrance on Challoner Street)

West Kensington, W14 9HE, London