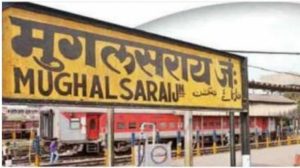 The iconic Mughalsarai railway station was today renamed as P .Upadhyay railway station in the memory of the founder of the Bhartiya Jan Sangh leader whose body was found on one of  its platforms in 1968. ment
At the ceremony, Shah thanked and congratulated the Uttar Pradesh government for its development work in the city, which was also named after .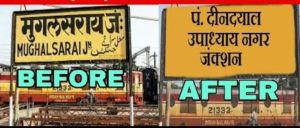 WHY IS THIS STATION ICONIC?
This was the second biggest railway station after Gaddar (in Pakistan now) which was constructed during the British rule in 1862. Famously known as the gateway to east India, this junction was set up as part of a project to connect Delhi-Calcutta route by British railway company known as the East Indian Railways.
The station is located at the Grand Trunk Road of the town which was built by Mughal ruler Sher Shah Suri. It was one of the busiest corridors during Mughal era which connected east India with the north. Hence, the name 'Mughalsarai' was obvious.
In that year, the junction was connected to Patna division and later extended till Allahabad division in 1864.
WHY DEEN DAYAL UPADHYAYA?
RSS ideologue Deen Dayal Upadhyaya was found dead in mysterious circumstances near the Mughalsarai station in February 1968. Since that time, the Sangh had pushed for the station to be renamed after him.
After more than a century, the station will finally be renamed under the BJP government. Interestingly, the BJP who was in power in 1992, had tried to change the station's name then as well. But the state witnessed an outbreak of violence following demolition of Babri Masjid and chief minister Kalyan Singh was forced to resign. The plan to rename the station was left in-complete.
Mughalsarai is also the birthplace of former Prime Minister Lal Bahadur Shastri.