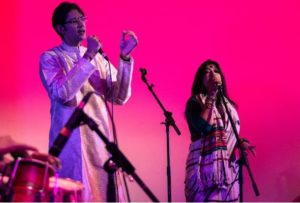 On 23rd June Essex Indians a community group that works towards community cohesion and sharing cultural diversity within communities, staged fifth edition of Uttorsuri concert. Uttorsuri – Generation Next concert is their flagship project and each year it is celebrated at Bharatiya Vidya Bhavan, West Kensington, London.
The event was dedicated to fund raising for Humanity Hospital, Kolkata
The programme was divided in two parts. First half   staged an outstanding performance of brother and sister duo Rishi Choudhury and Samyami Choudhury –Sharma. They presented a performance called 'Freshly Brewed'. It was a multi-sensory experience of Tabla, Dogor, Nagara by Rishii and Harmonium, flute and vocal by   Samyami.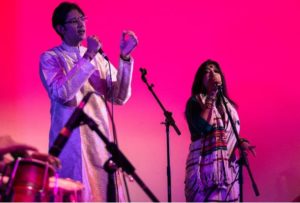 A unique concept 'Showers of peace', conceptualised and directed by leading classical vocalist of India, Mr Sounak  Chattopadhyay. 2018  , is 100th year of  First World War. This programme  was dedicated to all innocent people who have lost their lives due to violence , war  and act of terrorism.
Sounak  Chattopadhyay
He mesmerised  audience by  his expertise of singing  diverse genres of  songs starting from Rabindra sangeet , Classical bandish   Bhajan  and fusion medley with western songs like heal the world.
Songs were well chosen and performed  by local  community artists under his  capable guidance. Arya, Anirban, Ujjwal, Shreya and members of Bandal Mainline band, presented chorus songs.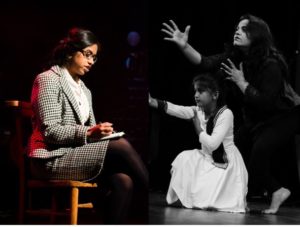 Other  singers  were  Soma , Shryeoshi , Sayantini , Oishi , Rudrayyan  Shreosi and Teerna  who participated in  famous Tagore songs , Imagine by John Lennon  and Heal the World by Michael Jackson.
Mrs Sahana Bajpaie , celebrity Bengali singer in UK and recent winner of Bengal pride award , presented two  immensely beautiful songs
Programme  had an array of ,dance , narration, recitation  and  theatrical presentation.  There were different genres of dance choreographed bY Pritidipa, Ahana, Anashmita and Raj Lakshmi and performed by Gunjita, Roopkatha, Ritisha, Rajlakshmi, Anashmita, Ahana, Moumita, Kavita, Moumita Pritidipa and Cid Saha. Western, traditional and contemporary dance forms were a treat.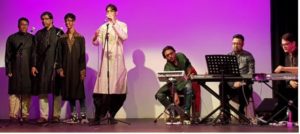 Theatrical presentation of poetry of Tagore, Wilfred Own and modern Bengali poetry was performed by Solan, Shrey, Shreya, Rounak, Risheen, Gunjita, Tista, Pratik, Dipankar, Sanchita and Suman. Renowned elocutionist Samya karpha and Biplab Dasgupta have participated in this project.
Grand finale was  Michael Jackson's famous number performed by more than forty artists live on stage.
Chief guests were Suresh & Mona Kumar of Indira Travels and other distinguished guests were Mrs Rashmi Mishra of IIW and Mrs Manjiri Choudhury.
Dr Arpita Ray, cultural secretary and trustee of Essex Indians, coordinated the whole event.