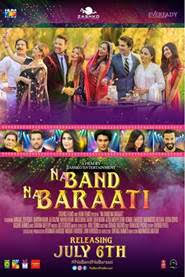 Upcoming Pakistani romantic-comedy Na Band Na Baraati set to release worldwide on 6th July 2018.
Na Band Na Baraati is a heady mix of culture, compassion, love, mischief, and entertainment, focusing on the shenanigans that ensue during a big family wedding in Canada. The filmmarks the debut production of ZASHKO Entertainment, is Directed by Mahmood Akhtar, Produced by Zain Farooqi and Presented by HUM Films.
·         The film's cast features both young talent and veteran actors including Mikaal Zulfiqar, Qavi Khan, Atiqa Odho, Azra Mohyeddin, Shayan Khan, Nayab Khan, Mahmood Akhtar, Komal Farooqi, and Ali Kazmi.
·         First Pakistani production filmed entirely in Canada, with various recognisable locations including Ontario, Niagara Falls, Blue Mountain Resorts and Toronto featured throughout the film.
·         The films boasts an international production team is also comprised of a talented collection of artists from a diverse range of countries including the USA, Canada, India, Pakistan and Iran.
·         Na Band Na Baraati's soundtrack is curated by Music Director Ayaz Sonu, and features artists including Rahat-Fateh Ali Khan, Shafqat Amanat Ali, Sahir, Ali Bagga, Aima Baig and Nimra Rafiq. The film's background score was composed by Mohsin Ali, with Mad Music.