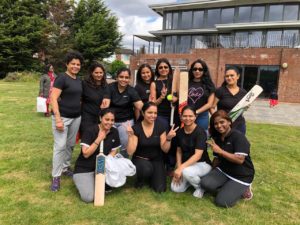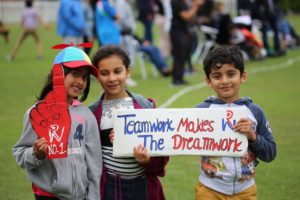 This 'Father's Day', around 44 ladies decided to show their Dads, that they are born tough like them.
A first in the world –Married ladies and Mums played a completely professional match after a gap of many years.  Before this, most hadn't even met each other.  When announced, the interested ladies randomly went to any team out of convenience. Serious matches were played by the four teams- Hurricane Heroines, Gladiator Gals, Lethal Ladies and Women Warriors. They clashed in two Semi Finals and one Final.
The trophy was donated by Ambika House of Trophies and Engraving shop- Rawhide, Camden.
In the recent years, the Indian Ladies Cricket team awakened the cricket passion amongst many women. This summer IIW decided to have a family day out with an All Ladies Cricket Match at Indian Gymkhana at Osterley.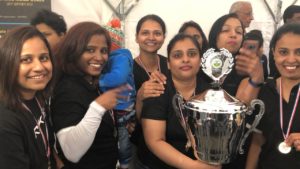 It was a day of joy, tears, excitement, happiness, palpitations, nervousness, moaning, regrets, new friendships, new avenues, craziness and loads and loads of memories to cherish.
Such was the excitement that the Chief Guest Mr Virendra Sharma MP Southall and Ealing waited long to give away the champions trophy to the winning team.
The event was attended by Mr Sutantar Soni and  Rajesh Patel of Indian Gymkhana Club , Ms Anita Ruparelia Secretary General National Congress of Gujarati Organisation UK and Asian Foundation For Help, Cllr Rehana Ameer from City of London , Ms Anju Narang, Cultural Secretary from Punjabi Society of British Isles 1921, Mr Prabhakar Kaza and Mrs Geetha Chari Kaza from Indian forum on British media, Kavita Gulati, Vinay Gulati from Spin London, Ex Hockey player Manju Masson and the Glamorous Simi Arora!!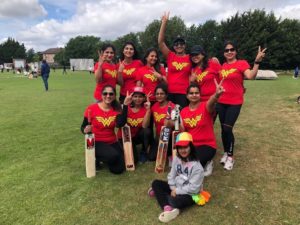 Finally the Hurricane Heroines won the match in a nail biting final against Women Warriors. Each team gave a tough fight!! The Women Warriors made 97 runs in the semi-finals and were also the best team with the maximum 6 wickets.  Mansi Raval and Hetal Vyas from the team also took the best catches.  High scoring Batters were Poonam Garg (Women Warriors) and Mangal Bhalerao (Hurricane Heroines). Mansi Bahl and Priyanka Bhargava also hit sixes.  Others who played were Tejal Shah ( Captain Lethal Ladies ) Usha Parmar,  Priyanka Bhargava ( Captain Hurricane Heroines) Pallavi Sundareshan  (Captain Gladiator Gals), Christina Shiju George , Chinu Kishore , Sandhya Hans,  Jyoti Aneja,  Seema Agarwal , Rani Kaur Malik, Shalini Jain,  Deepa Vaswani , Swati Kirve , Priyanka Ashish Sharma,  Rachanaa Jain,  Heena Jain (Captain Women Warriors ) Sonia Singh,  Aarti Chokshi , Payal,  Divya Chari, Mansi Bahl, Shilpa Chaudhary,  Sonia Singh,  Yuvika Aggarwal,  Seema Khandelwal,  Hetal  Vyas , Binal Shah,  Priya Mastani, Sangeetha Mani , Usha Parmar, Vasudha Shah , Jyoti Vekaria, Darshana Darshana , Noha, Khilna, Kavita Gulati.  Ladies had joined from as far as Essex, South East, Slough, Sussex, Harrow, Watford.
Commentators were Sneha Jain and Tarla Mashru whilst Umpiring was handled by Gaurav Bansal and Maneesh Kumar
The opening ceremony also saw kids talking about sports and dressed up as cheer leader and master blaster Sachin Tendulkar.  The kids show was coordinated by Priyanka Ashish Sharma.
The event was a huge success as the demand for another Cricket championship has already started. It was unbelievable to see the ladies playing so well.  What was thought to be just another fun day actually turned out to more than that! The energy and passion to do something different in life is runs high among the Indian community in UK. The story has just begun.  Celebrating sports has just started.  Here's to the great journey ahead.  The practices are being planned, venues being decided.
Watch out for IIW All Ladies Championship 2019.