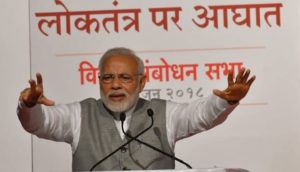 "The Congress's mentality during Emergency is the same as the one that was visible while bringing the impeachment motion." said PM Narendra Modi.
Addressing BJP workers at an event to mark 43 years since the imposition of Emergency by then Prime Minister Indira Gandhi,to observe "Black Day" – the imposition of 1975 Emergency,"nothing, no one and no constitution comes above the Family". the Prime Minister said. "Remembering Emergency is meant "not just to criticise Congress for the sin of attacking the constitution, but to create awareness about its dangers"
"When a notice was served on the 'family,' such was the arrogance, such was the ego, that even the Chief Justice of India was not spared. There was an impeachment motion against him in Parliament," he said, referring to the Congress's effort to bring an impeachment motion against CJI Dipak Misra.
"The sin of devaluing the judiciary was done by those who were enjoying power on behalf of one family," Mr Modi said.
The Congress government led by Indira Gandhi imposed the Emergency in 1975, during which fundamental rights were severely restricted, curbs were imposed on the media and several opposition leaders were jailed.he announcement of the Emergency was made on June 25, days after the Allahabad High Court found Indira Gandhi guilty of electoral malpractices and disbarred her as a parliamentarian for six years.
"After god, people of this country have faith in the judiciary. But the Congress plays on this, creates insecurity and doubt in the minds of people," he said, adding when the Congress "faced the reality of going from 400 to 40" seats in elections, they cast doubt on the Election Commission,
He accused the Congress party of "spreading lies" about fear and intolerance in the country.
"They keep saying that Jan Sangh and the Rashtriya Swayamsevak Sangh would kill the Muslims… nowadays they keep saying the RSS will kill Dalits… all for creating a fear psychosis among the citizens… We are a big nation with a massive population, and such fear psychosis does have an impact on the people," he said. "They say only they (Congress) can fix the problem… It is all a big lie."
"The youth of today enjoy freedom, they do not understand what it is to live without freedom. Hence they probably do not feel the pain and the anger of Emergency… Only a man who is thirsty understands the value of water," he said.