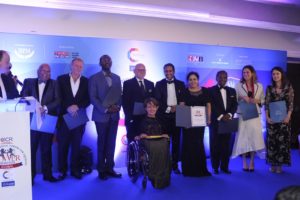 International entrepreneurs, investors, CEOs, political figures including former Presidents and Prime Ministers academicians, media giants, sports and film personalities convened in London for the second edition of Power Brands Global and London International Forum for Equality (LIFE) Summit.
Hosted by sports journalist, author and broadcaster Ian Stafford, and model-actress Ellie Torrez, with India's leading 24-hour English-language news channel TIMES NOW supporting the event as Media Partner, the evening saw some of the most recognisable brands in the world receive an award including Lamborghini, Pirelli and Best Western. The evening also saw the unveiling of the Global Wage Equality Vision Document based upon a forthcoming book by Dr. Malay Chaudhuri and Prof. Arindam Chaudhuri, launched to fight for a just world which has a 3:1 ratio of wages between the highest paid worker to the lowest paid.
Power Brands Global also provided much attention from 10 global leaders inducted into the Power Brands Hall of Fame. Experts in their respective fields, each awardee was commended for building a brand that has promoted faith, hope and commitment to spreading equality, and were honoured with their induction into the Power Brands – Hall of Fame.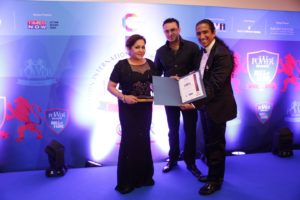 Neena Gill MEP & Arindam Chaudhari
This year's inductees featured figures from the Charity/ Not for Profit sector, Sports, Politics and Business, including:
 Charity/Not for Profit sector:
Helen McEachern, CEO Cherie Blair foundation – their work focuses on strengthening the capability, confidence and access to capital of women entrepreneurs in countries where they lack equal opportunities
Dominique Airey, CEO, Khulisa –  a crime prevention and offender rehabilitation charity based in North London with roots in South Africa
H.E. Mohamed Waheed Hassan, 5th President of the Maldives – recognised as one of the most influential voices on foreign relations, democracy, and human rights in the Maldives.  With dedicating his life to increasing humanity both at home and abroad, his Excellency has worked in a number of UN agencies. He played a key role in reconstructing Afghanistan and has helped to enroll over 5 million children in schools, vaccinate 6 million and provide health services, water, and vaccination.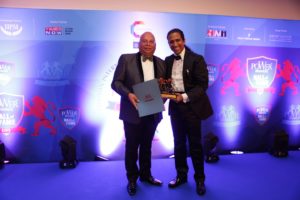 John Athwal OBE
Baroness Tanni Grey-Thompson – one of UK's most successful Paralympian –
Mr. Zlatko Mateša, PhD – the 6th Prime Minister of the Republic of Croatia & current President of the Croatian Chamber of Commerce – Croatian Olympic Committee –
 Politics:
Claude Ajit Moraes MEP – UK (London) – Labour Member of the European Parliament for London and Chair of the European Parliament's Civil Liberties, Justice and Home Affairs Committee (LIBE)
Neena Gill MEP – UK (West Midlands) – third term as a Labour member of the European Parliament for the West Midlands. Spent over 18 years working in social housing in a variety of inner-city areas across the UK to tackle issues of social deprivation and homelessness and hit the headlines by setting up the country's first Asian only sheltered accommodation
Virendra Kumar Sharma MP – UK (Southall) – vocal humanitarian activist and is a member of the Council of Europe Committee on Legal Affairs and Human Rights. Chairs the Indo-British All-Party Parliament Group leads APPG for Gurkha Welfare and Co-chairs APPG on Nepal, Tuberculosis and Hepatitis Group
 Business Figures:
John Atwal OBE –  His brainchild Premier Decorations started almost 30 years ago from nothing and now employs 250 people at its peak in the year
Mike Tobin OBE – serial technology entrepreneur and philanthropist. As the former 'maverick' CEO of Telecity Group, the FTSE 250 data centre operator he took from £6million to £3billion, Michael is known across the globe as the leader who created the data centre industry in Europe.
Bright Simons – Ghanaian social innovator, entrepreneur, writer, recognised by the World Economic Forum as a young Global Leader. President of the mPedigree Network, a system that empowers consumers to instantly verify with a free text message whether their medicines are safe and not counterfeit.