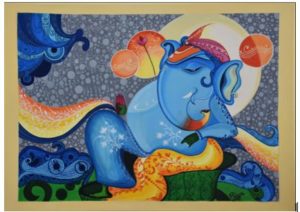 A solo exhibition of paintings"Shades of Lambodra" by Dr. Supriya Dudhal was inaugurated on Monday, 28th May 2018 at The Nehru Centre, London. To an overwhelming response and appreciation from all the guests and invitees.
Inaugural function was started with Lighting of Lamps and then paintings opening by all dignitaries.
Present were  Chairperson was Vibha Mendiratta (Deputy Secretary, The Nehru Centre, London), the Chief Guest  Bharulata Patel-Kamble (listed by The Government of India as India's first 112 exceptional "First Ladies" of India,  Also Guinness Books Records holder)and  Guests of Honour Satya Minhas (Chairman of Hindu Association of Metropolitan Police), Sulekha Davda (Financial Consultant with HSBC),  Dr. Subodh Kamble (Surgeon),  Varsha Mistry (Director at Metropolitan Police Forensic department),  Poonam Joshi (Social activist)  ladies from Happy Sisters .
Vibha Mendiratta quoted "I'm very glad that I'm here for this journey and wish good luck to the artist Dr. Supriya for art exhibition and wishing best ahead". Chief Guest Mrs. Bharulata happily quoted "I'm truly honoured to be here as chief guest of function, as I'm firm believer of supporting women empowerment and I think Dr. Supriya has chosen very rare artistic career and that should be encouraged and supported by all of us. This is something out of the box thinking that should be appreciated worldwide, as for centuries we are having tradition of male painter dominance and we rarely hear about female painters of Indian origin and I think Supriya is role model for youngsters and future generations and that they should choose hobby as passion. Educating girls is not only our responsibility but also letting girls to choose their different career path. Supriya has open horizons for very rare career path and all girls should start believing in yourself and Supriya is creating history of female painters".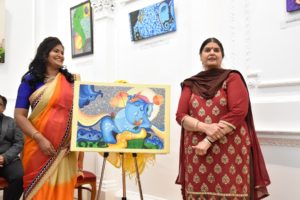 With Vibha Mendiratta
Mr. Satya Minhas appreciated all the artwork displayed by artist Supriya and wish her best luck for future endeavours.
"Each and every painting is a unique painting and have different mudras in them, the use of vibrant colours is awesome and each one of them has different stories behind it.  Dr. Supriya' s efforts are clearly seen when you go through entire exhibition". commented Sulekha Davda.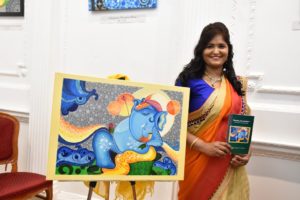 Dr Supriya Dhudal
"I'm privileged to be here for the launch of shades of Lambodara, each painting has different colour combinations and they are really beautiful" said Varsha Mistry
Dr. Supriya took the opportunity to explain "Journey of Shades of Lambodara" right from how idea of this exhibition was triggered.
Dr Supriya Dudhal whose work is unique with distinct colours, is a strong believer of Lord Ganesha, and thinks that behind each aspect of Art work there is a thought of God. She is a renowned Rangoli artist specialized for Poster Rangolis, especially Kangra miniature paintings. She completed her Master's Degree from Nagpur Fine Art College and was recently awarded Ph.D. in Fine Arts from Nagpur University. She has been Honoured Double Doctorate by World Record University in September 2017.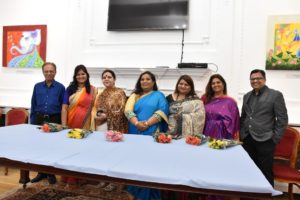 Dr. Supriya says – 'Art for me is the key to the secret garden, my way down to the imaginary world Art has always been my first love and passion. It is a process of transforming views and thoughts on the canvas that has given me the ultimate results. Life is a diverse vibrant shade of colours and impression of our actions and reactions. I always aim to capture the existence of spirituality in my paintings and Art works. I see Ganesha forms in each and everything present in nature.'