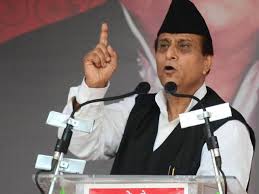 Samajwadi Party leader Azam Khan on Monday ignited a debate when he said that Hindus are 'jobless' and behind the riots in Uttar Pradesh. Taking a jibe at Narendra Modi's earlier remark about 'pakoda' sellers, Khan said the Prime Minister must create employment opportunities for youths so that they do not end up picking arms and engage in hooliganism on streets.
"I request the Prime Minister to provide employment to the youth, that too only to the youth of the majority community, so that they get tired after the day's work and don't take up weapons and flags and enter localities and create violence. He should provide employment to them so that they should not create violence. The country is moving towards anarchy, open anarchism. To save our country, the majority of the youth should listen to the PM and sell pakodas."
Another Samajwadi Party leader Ram Gopal Yadav supported  Khan's communal rant, saying the recent violence in Kasganj was orchestrated by members of the Hindu community. He further alleged that Chandan Gupta was shot dead by Hindus and the murder was later blamed on Muslims to vilify them. Chandan Gupta was killed in the violence that spilled over after clashes erupted during the 'Tiranga Yatra' taken out by the ABVP on the Republic Day.
Responding to Azam Khan's statement, BJP spokesperson Gaurav Bhatia said that it has become a culture to pass such comments.