Indian Republic Day – 2018 celebrations by OFBJP (UK) was celebrated in London with enthusiasm.
The flag-hoisting ceremony was done by Rt Hon Seema Malhotra, MP for Feltham and Heston, Rt Hon Virendra Sharma, MP for Ealing Southall and Dr. Madhukar Ambekar, Suresh Mangalagiri OFBJP (UK), event was attended by about 150 Indian nationals and members of Indian diaspora, they watched it with pride and joy. This was followed by singing of National Anthem and cultural programmes that included traditional dance, singing patriotic song, role play as freedom fighter and reciting slokas.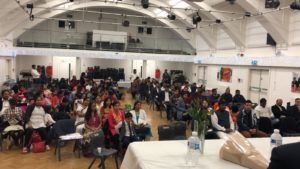 Mr Suresh Mangalagiri on behalf of  OFBJP (UK) has explained the audience how the idea of involving Telugu communities has been conceived and clarified its role in Overseas Friends of BJP (OFBJP). He has commended the work of team for its effort in making this event happen in such a short time span.
Rt Hon Seema Malhotra, MP for Feltham and Heston has highlighted the way India has progressed since independence and the role it can play in the global economy with United Kingdom. India waited till 26th January 1950 when the Indian people gave to themselves a constitution for all its citizens, justice, liberty, equality and gender. India should be proud of its rich social and cultural diversity, its tradition and the aspirations of the women and youth. Dr. Madhukar Ambekar gave a glimpse in to the journey made by BJP from the days of Jan Sangh. The mission and vision of Narendra Modi about making India an economic superpower was evident from the day he became PM. He is working tirelessly to take India to the next level on the global map.
Dr. Mahadev  Bhinde spoke eloquently about our diverse nation and Narendra Modi's vision in making a bigger economy so that everyone, irrespective of caste, creed and religion can benefit from the growth.
Rt Hon Virendra Sharma, MP for Ealing Southall has recalled his journey to UK from India and emphasised on living with unity in United Kingdom with various communities, he has encouraged local communities to actively engage and participate in UK's political system. He highlighted that India diaspora not only has an eminent roles in this country but has also got very strong roots in India, making the Britian Indian community a foundation of the relationship between the uk and India. We should be incredibly proud of our achievement in the UK but we also still have huge amounts to contribute to our country of origin.
He highlighted that In UK women were not allowed to vote in parliamentary elections until 1918, however, in 1947 on its independence from UK, India granted equal rights  vote to all men and women. He has said India has significantly grown in 72 years and now is emerging as a potential global leader.
Lastly Shri Darshan Grewal, Vice President, OFBJP has asserted how Narendra Modi's leadership has increased respect for Indians and its diaspora across the globe. The programme ended with vote of thanks with Mahesh Jammala. The programme very well organized by organisers by Veeresh Katkoori, Praveen Mannem, Mahesh Yamsani, Om Prakash Vemula, Mahesh Chintala, Bhushan, Mohan, Chandra Alapati, Suresh Murki. The programme very well compared by Sravya Vemula.
Finally all assembled bowed to the strains of our national song, Vande Mataram, a perfect tribute to India. Today we are proud of our nation's achievements and look ahead to a bright future for our country India which has flourished despite adversities to rise victorious. Jai Hind!