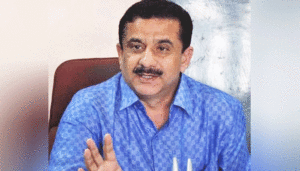 Uttar Pradesh Shia Waqf Board Chief Wassem Rizvi, declared that those Muslims opposing the building of a Ram temple in Ayodhya should go to Pakistan. He visited Ayodhya on Friday and took part in a pooja at the make-shift Ram temple.
He said that building a temple at the site will be in the best interest of everyone. The Supreme Court is scheduled to hear the Babri Masjid-Ram Janmabhoomi dispute from February 8. Lakshmi Iyer of Mumbai Mirror spoke to the man who has been arguing in favour of a temple at Ayodhya and subsequently finding an alternative site for the mosque.
Excerpts from the interview:
What prompted you to visit Ayodhya at this juncture? You are, after all, one of the parties in dispute before the SC.
I have been to Ayodhya many times before but I never visited the temple. So I decided to visit it before the hearing begins. I wanted to offer my prayers to Lord Ram. I hope Ramji wahin virajman rahen (Ramji will remain seated there). I also prayed for peace in the country. Over 2,000 people have been killed due to this issue. No more blood should be shed on this matter.
Did you offer prayers in the temple?
Yes. The priest even offered me holy water, prasad and flowers. He also smeared chandan on my forehead.
You do not seem to be in favour of the Allahabad High Court order (2010) which, while allocating two-thirds of the area for a temple, also provided for the co-existence of a masjid at the site.
A masjid should not be built there, only a temple for Ramchandraji. It is a matter of aastha of crores of Hindus that must be respected. It should not be an issue of dispute at all. Masjids are transferable. An alternative mosque could be built in Lucknow. During his lifetime, our Prophet himself ordered the razing and relocation of masjids that were working against Islam.
The Shia Wakf Board that you are the chairman of is the main petitioner before the apex court
We are one of the parties challenging the Allahabad High Court's verdict. From 1528 when Mughal General Mir Bakshi built it, till about 1944 it was a Shia mosque. Its registration by the Sunni Wakf Board was subsequently declared void.
Your detractors say you are taking a protemple stand to save yourself from CID and CBI cases
These cases have come up because I have pursued action against a certain Maulvi. I have nothing to worry.
Has any Central BJP leader or minister met with you to sort out the issue?
I have met with UP Chief Minister Yogi Adityananthji thrice in connection with the temple issue.
Source:Mumbai Mirror