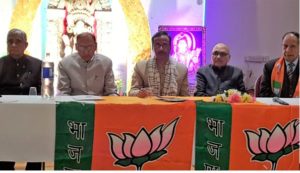 Dr. Dinesh Sharma Dy. Chief Minister of Uttar Pradesh was on a short visit to the UK, to attend an Education conference.
Vishwa Hindu Parishad and Friends of BJP UK organised a function to welcome him at the VHP Center Ilford on 23rd January 2018. He gave a talk on business, education and other developments in India.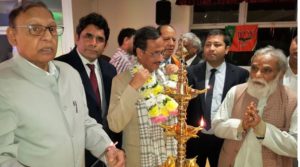 Darshan Chodha Chairperson VHP Ilford, Dr Sharma & Pandit Harish Rawal
Dr. Dinesh Sharma, a professor of commerce at the Lucknow University, has deep roots inthe RSS, and has been elected the mayor of Lucknow twice. He was first elected to office in November 2006. He won again in July 2012.
Dr, Sharma began his political career with the ABVP, the student wing of the RSS. He was also the state president of Bharatiya Janata Yuva Morcha, the youth wing of BJP, before becoming the mayor of Lucknow.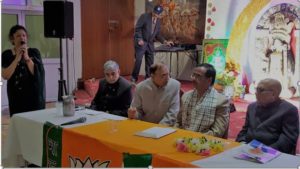 Vote of Thanks by Vinaya Sharma, Gen.Secretary of VHP UK
He is known to have good rapport with Muslims as well as clerics in Lucknow.

Quotes from him talk:
"The Prime minister Modi and Bhartiya Janta Party are working hard to make India great again, regain and revive our cultural heritage, religious, social and family values. For last many decades Indians had lost their dignity and pride, both at home and abroad, but today we can proudly say we are Indians"
"The country was deep into foreign debt, clouded by various scams and corrupt practices for many decades, but now under the leadership of Modi Ji, the country is breaking that web and is at the front line with the world nations."
Commenting on terrorism in Kashmir,
"There were terrorist activities in Kashmir under the congress regime as well, but the difference was that the terrorist escaped alive to Pakistan, but now though the terrorism still exists in Jammu & Kashmir, but now the terrorists don't leave live, but are killed by the Indian forces."