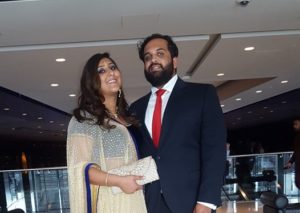 Fresh from their recent wedding, Mayuri Parmar Amin & Himal Amin are both newcomers to the Asian Power Couples List.
Mayuri Parmar Amin is a Management Consultant at Parmar Advisory and a communications specialist working the Process, Design and Innovation team at education management company Pearson. She was previously Director at the Conservative Friends of India where she managed the day to day running of the organisation including all finance & accounting, operations, communications and resourcing. She also managed communication with all stakeholders including members, senior members of the Conservative Party, Members of Parliament, the Indian High Commission, donors and the media and she coordinated fundraising activity. Prior to that she was Deputy Head of the Diverse Communities Unit at The Policy Exchange and started her career as a senior consultant at BAE Systems Applied Intelligence. She holds a BSc in Politics, Philosophy & Economics from the University of Warwich and was the National PR Office for the National Hindu Students Forum until August 2012. She married Himal Amin in October 2017.
Himal Amin studied Economics at Leicester University and previously worked for HSBC Private Bank before leaving the UK to manage two companies with $1m+ revenues in Uganda (Nelion Trading Uganda) and the Democratic Republic of Congo where he was Operations Director and Manager of Minetec Services (a mining equipment subcontractor to a Randgold Resources operated gold mine) from 2013 – 2016 and most recently as a mining procurement specialist.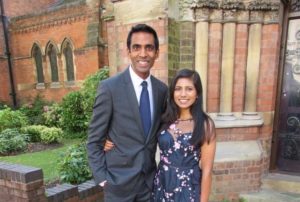 Soon-to-be-married couple Rajay Naik and Chandni Shah are also newcomers to the list: Rajay Naik is the CEO of Keypath Education in Europe which partners with leading universities around the world to design, launch and market high-quality online degree programmes. He was previously the director of government and external affairs at The Open University while his fiancee Chandni Shah is Legal Counsel in HSBC Group Litigation and Regulatory Enforcement advising on a range of cross-border and domestic disputes and regulatory matters.
Neel & Dipti Patani (pictured above) are both leaders in the Hindu community. Neel Patani works for Nomura International Plc and is Chair of the City Hindus Network, while Dipti Patani is Legal Counsel for Janus Capital International by day and a volunteer for Chinmaya Mission UK in her spare time.
Rishi & Meenal Sachdev are also newcomers but with a strong pedigree in philanthropy having co-founded the Shiva Foundation, an independent charity that works to prevent human trafficking and slavery in the UK.
Newlyweds Darshan & Priya Sanghrajka are social entrepreneurs at Super Being Labs, an innovation and design studio for social good.
Source:Asian Power Couples