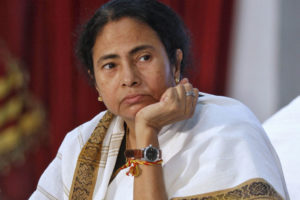 The surprise surge in BJP's vote-share in the recent assembly byelections, in Bengal's Sabang and Dakshin Kanthi, where the saffron party doesn't have an organisation worth mentioning, is a pointer to a shift in Bengal's political narrative that was broadly built on class intertwined with caste and the minority vote bank. In the Sabang assembly by poll. BJP, which had got only 5,610 votes in 2016, jumped to 37,476 this time.
A worried Mamta Bannerji has come to realise the change that Narendra Modi has brought in the universe of Hinduism. Modi has included OBCs, Scheduled Caste and Tribes in the Hindu camp, breaking the monopoly of Brahmins and upper caste Hindus.
she is now trying to project herself as a HINDU and as such spent around one hour at Kapil Muni's ashram with its chief priest Gyandas  during her Gangasagar visit on December 26, ahead of Makar Sankranti on January 14, when lakhs of pilgrims will be taking a holy dip at the confluence of the Ganga and the Bay of Bengal.
"I will come to this place again," the CM said, possibly to appear balanced, and counter the perception that she is pro-minority.
Hastily, Mamata announced formation of SC advisory council, a separate welfare board for the Rajbanshi's in north Bengal to take She has set up boards to renovate temples: Tarapith, Tarakeswar, Kalighat — as she has done for Furfura Sharif. The government is also upgrading tribal burial grounds.