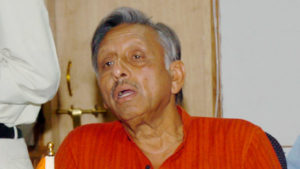 Congress leader Mani Shankar Aiyar stoked fresh row when he called Prime Minister Narendra Modi "neech" (vile man), who does "dirty politics". Aiyar attacked Modi after the latter accused the Congress of seeking votes in B R Ambedkar's name but trying to erase his contribution to building India. Aiyar said, "Ye aadmi bahut neech kisam ka aadmi hai, is mein koi sabhyata nahi hai, aur aise mauke par is kisam ki gandi rajniti karne ki kya avashyakta hai? (This man is extremely vile and uncultured. What is the need to play dirty politics on such an occasion?)"
Aiyar's harsh comment might just turn out to be a shot in the arm for the BJP.
Sonia Gandhi's 'Maut ka Saudagar' (merchant of death) remark made against Modi during the 2007 Gujarat Assembly election had backfired on the Congress party with the BJP once again sweeping to power with 117 seats in Gujarat and the Congress Party getting only 59. The acrimony between the two leaders brings back memories of the 2014 Lok Sabha polls when Aiyar took on Modi by calling him a 'chaiwallah'.
Earlier, Congress vice president Rahul Gandhi said he did not appreciate the tone and language used by Aiyar to address the PM. "Both the Congress and I expect him to apologise for what he said, " Rahul Gandhi said in a tweet.
"BJP and PM routinely use filthy language to attack the Congress party. The Congress has a different culture and heritage. I do not appreciate the tone and language used by Mr Mani Shankar Aiyer to address the PM. Both the Congress and I expect him to apologise for what he said," Rahul Gandhi said on Twitter.
Modi blamed it on Aiyar's "Mughal mentality" at a rally in Surat and warned that the remarks would have consequences in the elections.
"They can call me 'Neech'-. Yes, I am from the poor section of society and will spend every moment of my life to work for the poor, Dalits, Tribals and OBC communities," Modi said. "We have nothing to say to such elements."
"What all have they called us — donkeys, Neech, Gandi Naali Ke Keede…the people of Gujarat will give a fitting answer to such deplorable language," Modi warned, referring to epithets that the Congress has used to describe him, from the time he was chief minister of Gujarat.