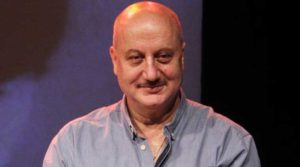 Versatile actor Anupam Kher has been appointed as Chairman of Film and Television Institute of India (FTII) in Pune and will succeed Gajendra Chauhan whose tenure ended earlier this year.
While the Ministry of Information and Broadcasting (I&B) is yet to release a notification regarding re-constitution of the FTII Society, Kher confirmed his appointment by tweeting, "I feel deeply humbled & honoured to be apportioned (sic) as the Chairman of iconic FTII. I will perform my duties to the best of my abilities."
The 62-year-old critically acclaimed actor also enjoys great proximity to the ruling dispensation with his wife Kirron Kher being a BJP MP from Chandigarh.
Kher has a long and varied experience in acting in films as well as theatre. Previously, Kher has headed the Censor Board and the National School of Drama.
Apart from Society President who also serves as Chairman of Governing Council, the Society has over a dozen members which are appointed by the Government. Their names are yet under wraps as the Ministry has not released a notification about the reconstitution of the society.
Tenure of previous FTII Society headed by Chauhan ended on March 3 earlier this year. Chauhan who was appointed in June 2015 for a three-year term with retrospective effect from March 2014, however, due to vociferous protests against him by students Chouhan could assume the office only in January 2016 thus effectively getting only a 15 month tenure.
Kher will now head the FTII Society which is responsible for electing Governing Council and Academic Council which then takes decisions on important matters pertaining to administrative and academic matters concerning the institute.