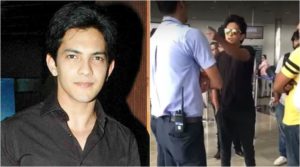 Aditya Narayan, who is the son of Bollywood singer Udit Narayan, was recently caught on camera shouting at an airline staff at the Raipur airport. In the video, The young singer is seen protesting the use of abusive language by the official. He  shouted at the man claiming that he can say whatever he wants and there should be no embargo on that. He claimed to have been shooting a video with his friend when the incident happened.
When the man protested saying that Narayan cannot use such language, the 30-year-old  threatened the unidentified Indigo official claiming that though the airline can stop him  "You will offload me, I'll see you in Bombay. At some point I will reach Bombay, and then I'll deal with you. If I don't get your underwear removed, my name is not Aditya Narayan," he said.
The minute-long video of Narayan abusing the airline official, has gone viral on social media, and is currently being shared on multiple platforms.
Narayan – who is also a TV reality show host – was stopped for exceeding the cabin luggage limit.
Soon after the video went viral, news agency ANI tweeted out a series of statements from Indigo airlines: "Today on 6E-258 (Raipur-Mumbai), Aditya Narayan, travelling with a group of 5 people, was carrying excess baggage of 40 kgs; Amount to be paid for carriage of excess baggage came to 13000 INR. He refused to pay this amount to the female check in staff member; He said he will not pay more than 10000 INR for the excess baggage & also used unparliamentary language with the female staff member; While making a video, he pointed a finger at the Duty Manager and again used profanity; When politely asked to be civil & not use such language, he started shouting even louder and used abusive words; Informed that if he continues to misbehave he won't be allowed to travel. He apologised to ground staff & was given boarding cards".