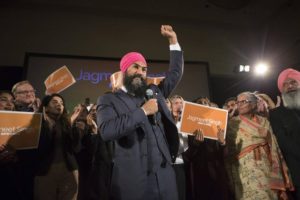 A 38-year-old lawyer, Jagmeet Singh, made history on Sunday as he became the first person belonging to a visible minority group, and obviously the first of Indian and Sikh heritage, to be elected leader of one of Canada's three largest national political parties.
As the first ballot results were announced at the Metropolitan Ballroom in the Westin Harbour Castle Hotel in Toronto, Jagmeet Singh easily secured  the 50% votes required to win the leadership of the New Democratic Party of Canada.
He will now lead the New Democratic Party (NDP) in the next federal election to be held in October 2019.
In his acceptance speech, Singh described his win as "an incredibly profound honour". He also announced the beginning of the 2019 race to lead Canada, as he said, "Canadians deserve a government that understands the struggles that people are facing right now. Most importantly, Canadians deserve a government that gets the job done. That's why today I'm officially launching my campaign to be the next prime minister of Canada."
Cheers and applause broke out among NDP members who had gathered at the venue for the announcement of the result. Four candidates were in the race for the leadership, but as the numbers for the first three were announced, it became obvious Singh had managed to secure well over the percentage needed to prevent another round of balloting. Singh secured more than 35,000, almost three times the total for the runner-up, Ontario MP Charlie Angus, who had 12,705 votes.
His supporters,waved the orange placards bearing the slogan, "Love & Courage", the theme of his campaign.
Speaking after winning the vote, he said his vision offered "the courage to fight the politics of fear, a politics of love to fight the growing politics of division"."Growing up with brown skin, long hair and a funny sounding name meant I faced some challenges. I've been stopped by the police multiple times for no other reason than the colour of my skin."
Born in Scarborough in Toronto,  Jagmeet Singh was joined on the stage by his family, including his parents Harmeet and Jagtaran Singh, sister Manjot Kaur and brother Gurratan Singh.
Singh will be in Ottawa on Monday as he meets with party MPs and the NDP leadership to chart out the course for the national campaign. He will face the challenge of making the NDP, the third party in Canadian politics, a credible choice for 2019.