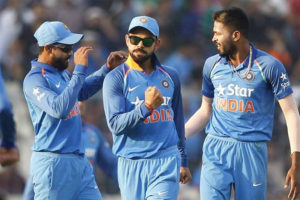 India beat Australia by 5 wickets in the third ODI played between the two sides at Indore. The victory helped them take an unassailable 3-0 lead in the five match series which helps them pip South Africa to claim the no. 1 spot in the ICC ODI rankings. This now means that India are now at the top of both the Test and ODI rankings.
At the start of the series, India were two points behind South Africa in the rankings. Their wins in the first and second matches meant that they came within 0.01 rating points of South Africa, which also led to many claiming that India had become World No.1 already. Australia, on the other hand, are six rating points behind India on third. South Africa can reclaim the top spot if they beat Bangladesh in the upcoming three-match series that will be preceded by a Test series.
India have been clinical in the series so far, giving Australia no quarter and remaining ahead in all departments on the field. In the third ODI, Australia weremade 293 runs batting first, largely on the back of a 154-run partnership between Aaron Finch and Steve Smith. India, threatened to run them over as Rohit Sharma and Ajinkya Rahane raced to an opening partnership of 139 runs off just 130 balls. India then lost the two openers in quick succession but Hardik Pandya, promoted up the order, provided the impetus despite the dismissal of skipper Virat Kohli shortly after the two openers. Pandya and Manish Pandey then made a partnership of 78 runs that all but ended the Australian challenge in the series. This was India's ninth consecutive ODI win while it is Australia 11ts successive defeat away from home.
Source:IE