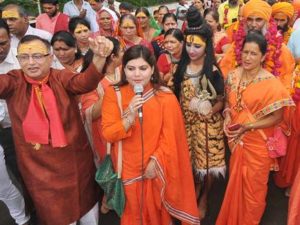 Indian National Congress member and woman leader Noori Khan chanted "Om Namah Shivay"at a Hindu gathering in Ujjain, wearing saffron garments. In doing so, she also prayed for the well-being of all. later in the day, she took to social media to post her opinion along with a video on the event. Maulvi Khalek-ur-Rehman criticized her act as a "political stunt".
Her controversial post titled, To Aaj Kar Do Fatwa Jaari, highlighted how she will never distinguish among people based on their religion. Instead of finding a good Hindu or a good Muslim is, she will invest her energy in finding who a good person is. Furthermore, her post said that like people, colours, cannot be assigned to any particular religion – saffron is not the property of the Hindus just like green is not the sole property of the Muslims. She further said that if ever the question of respecting other religions come, she will be on the top always for she feels religions teach inclusion, not separation.
Maulvi Khalek-ur-Rehman said that if the aim of the procession was to forge Hindu-Muslim unity, he is all for it. Even he would have walked for it. But chanting mantras is intrinsic of a particular religion, and doing the same being from some other religion needs to be condemned.