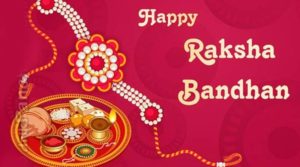 Hinduism has a rich cultural heritage and while there are many festivals observed throughout the year, Raksha Bandhan holds a special place. It is the time when sisters tie a thread/band around their brother's wrist for his long life and happiness and in exchange he promises to protect her from all evils.
This year Raksha Bandhan will be celebrated on August 7.  It usually falls on the full moon day or Purnima of the Shravan month .
In Sanskrit, the words 'Raksha Bandhan' literally means 'the tie or knot of protection'—the Rakhi is the knot of protection that shields a brother from all evil. Just as the name suggests, this ancient Hindu festival celebrates the love and duty between brothers and sisters.
The scared thread, tied on the right hand of the brother, is a symbolic reminder of its spiritual significance—a divine vow of purity to live a life of noble thoughts, words and actions. Besides spiritual purity, when a sister ties the sacred thread of Rakhi on her brother's wrist to protect him, it's also a reminder that he has to protect her from all evils—be it spiritual or physical. Its biggest significance is that, on this day a brother makes a promise to protect his sister and he is bound to defend her honour even at the expense of his own life.
The exact origin of Raksha Bandhan that is celebrated by Hindus world over, is unknown, but there are many interesting stories associated with it. The most popular one is from the Mahabharata and it acknowledges the relationship between Lord Krishna and Draupadi.
The story of Lord Krishna and Draupadi is one of the popular stories in Indian mythology. According to one version of this story, Krishna hurt his finger while handling sugarcane one day. His queen Rukmini sent her help to get a bandage while Satyabhama, his second wife, rushed to bring some cloth. Draupadi, who was a silent witness to all these, tore off a part of her sari and bandaged his finger. In return, Krishna promised to protect her always.
Another version is the story of Yama (God of Death) and Yamuna (the river) who are children of the Sun. Yama failed to visit Yamuna for twelve long years, Yamuna complained to Ganga. As such on Shravan Purnima, Yama visited Yamuna, who celebrated and welcomed him and tied a Yama blessed his sister with immortality and proclaimed that any brother visiting his sister on this auspicious day will be blessed with health, wealth and prosperity.