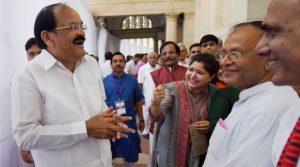 After securing 516 votes in the election, Venkaiah Naidu has beaten Gopalkrishna Gandhi, and is elected India's 15th Vice-President. Opposition candidate Gandhi secured 244 votes.
NDA nominee and former union minister Venkaiah Naidu took on former West Bengal governor Gopal  krishna Gandhi, the candidate put forward by the Opposition for the post of Vice-President of the country.
The voting began at 10 00 am Saturday and ended at 5.00 pm this evening. The result was announces at 7.00 pm. Indian time
While Naidu had the support of the NDA parties along with AIADMK, TRS and YSRCP, Gandhi got  the votes of MPs belonging to the Congress, RJD, JD(U), NCP, Left and other smaller parties.