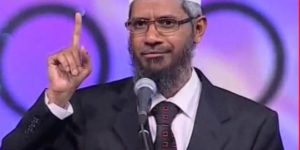 Televangelist Zakir Naik, on the run from Indian authorities investigating him for alleged links to terrorism and money laundering, will be a key guest at a gathering of Muslim scholars organised by the conservative opposition Parti Islam Se-Malaysia (PAS) next week.
Naik fled India after the Bangladesh government said his controversial sermons had inspired Islamic State-linked terrorists who stormed a café in Dhaka in July last year and killed 24 people. Cases have been filed against him by the National Investigation Agency (NIA) and the Enforcement Directorate (ED), which has also attached the assets of his Islamic Research Foundation.
Reports about Naik's participation in the conference to be held at a stadium in Kota Baru, the capital of Malaysia's Kelantan state, during July 20-22 have raised eyebrows in New Delhi as deputy prime minister Ahmad Zahid Hamidi had been quoted as saying that his country would assist India in its investigations against the preacher.
Officials said Hamidi had told a delegation from the Malaysian Associated Indian Chamber of Commerce in May that such assistance would include facilitating investigations when Naik is in Malaysia.
An official of the external affairs ministry said the process of revoking Naik's passport is underway following a request from security agencies. Sources said Naik had renewed his passport for 10 years in January 2016.
India has a mutual legal assistance treaty with Malaysia and officials have also been examining the options for taking action under the pact.
The PAS, a hardline Islamist party that is in power in Kelantan state, said it was aware of the charges levelled against Naik but defended his participation in the conference by saying the meet would stay away from debating controversial matters.
 "The issue of Zakir Naik is not an issue of conflict. It is his personal issue, with others who do not agree with him," PAS deputy president Tuan Ibrahim Tuan Man was quoted as saying at a news conference on Monday by MalayMail Online.
"We take in the context of how he plays his role in evangelism, how he can contribute in that aspect," Ibrahim said while naming Naik among the representatives from 23 countries attending the conference.
Other guests include International Union of Muslim Scholars assistant secretary-general Sheikh Ghafar Abdul Aziz of Pakistan and Jamaat-e-Islami Hind vice-president Syed Sadatullah Husaini of India.
Since leaving India, Naik has travelled between Saudi Arabia, Malaysia, the United Arab Emirates and other Southeast Asian countries. Earlier this year, Malaysia's home ministry confirmed that Naik had been granted permanent residence status five years ago and reports have suggested that he is seeking Malaysian citizenship.
Naik has denied the allegations against him and appeared on an Arabic TV channel recently to say that he had been offered citizenship by 10 Islamic countries. During April, Naik addressed several gatherings Indonesia while campaigning for hardline politicians.
His activities in Malaysia have been a cause of concern to some like the Malaysian Associated Indian Chamber of Commerce, which informed deputy prime minister Hamidi about "its concern over the tolerance shown by Malaysian authorities on the extreme statements made by Zakir Naik in his preaching and his continued presence in Malaysia".
Naik's religious lectures in Kuala Lumpur and some other cities last year were criticised by parties in the ruling coalition, Barisan Nasional, and he has been named in a lawsuit filed in March by Malaysian rights activists against the government, which was accused of failing to protect the country from a "security threat" such as Naik.
Source:HT