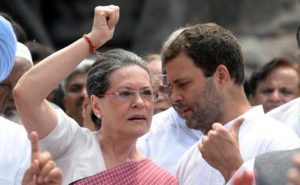 As the tense Bhutan-Bharat vs China border face-off over Doka La (Doklam) has stretched for over 3 weeks, and amidst beating of war drums by China's Communist Party organs, comes the news of a secretive meeting between Chinese Ambassador to Bharat Luo Zhaohui and Vice-President of opposition Congress party Rahul Gandhi over the weekend. This news has been reported by at least three media outlets, Republic, Times Now and CNN-News 18
As is their wont, when it comes to foreign visits & dealings by the all-powerful Nehru-Gandhi clan, Congress has yet to clarify their position on this meeting. But some 'sources' in Rahul Gandhi's offices have denied any such meeting, if one is to believe ANI.
Rahul Gandhi meets Chinese ambassador 'informally'? What is Congress cooking? –
CNN-News 18 has
reported
that the meeting had come about after this 7 July tweet by Rahul Gandhi.
Gandhi appears to be unaware that on 30 June, the External Affairs Ministry had made an
official release
on the matter, fully countering Chinese propaganda. The press release titled '
Recent Developments in Doklam Area', which represents the official Government of Bharat position.
In face of provocative war-mongering statements from various Chinese Government propaganda channels, the Government of Bharat has maintained a quiet, steely resolve and the Indian Army
has pitched tents in the Doklam area, showing it has no intention of backing down in the face of Chinese bullying.
At a time when the Government of India is dealing effectively with a tricky situation – standing up to Chinese bullying without resorting to fool-hardy bravado – Why a 'senior' (at least in years Rahul Gandhi is 46 years old) leader  secretively dabble on the sidelines with an enemy state.
It must be noted that Chinese Ambassador and other Chinese officials had met Rahul Gandhi back in
Oct 2016
as well – that meeting was attended by Rahul's sister, Priyanka Vadra, too although she holds no official position in the Congress party.
Rahul Gandhi also appears to be unaware of the casual handling of a similar Chinese incursion into  Ladakh's Depsang valley  in 2013 by UPA's External Affairs Minister
Salman Khurshid
who had called the standoff as "acne" which "can be addressed by simply applying an ointment".
Rahul Gandhi meets Chinese ambassador 'informally'? What is Congress cooking? –
The Chinese embassy website in Bharat had acknowledged a meeting on 8th of July between the Chinese Ambassador and Rahul Gandhi. But that press release has now been taken down after the denial from Rahul Gandhi's office that such a meeting took place.