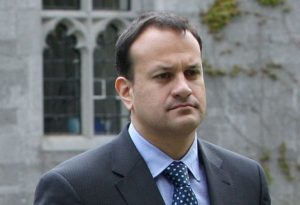 An Indian-origin doctor and Ireland's first openly gay minister has emerged as the front runner in the Irish prime ministerial race.
Leo Varadkar, 38, the Dublin-born son of a Mumbai-born father and Irish mother, is expected to become the country's first homosexual prime minister.
Varadkar, who is Ireland's welfare minister, has won early support for his leadership bid from several senior Cabinet members and a majority of his parliamentary colleagues have publicly backed him.
He announced his candidacy after Prime Minister Enda Kenny announced his resignation, a title referred to as Taoiseach in Ireland.
Varadkar faces housing minister Simon Coveney in the race as nominations closed for the leadership of the governing Fine Gael party this week.
"I am not counting my chickens. I am really humbled at the level of support I have received from my colleagues and I am really looking forward to the hustings and the debates," he said.
Kenny's successor is due to be elected by June 2 and Ireland's Parliament is set to vote in the new leader as prime minister a few days later.
Varadkar came out as a gay in 2015 when Ireland became the first country in the world to legalise same-sex marriage through popular vote.