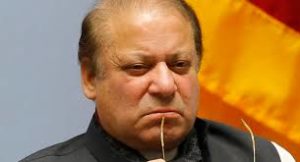 Former cricketer and Tehreek-e-Insaf (PTI) chief Imran Khan has said that "Pakistanis are ashamed at the way Nawaz Sharif was treated in Saudi Arabia during his recent visit to the Kingdom," Pakistan media reported on Tuesday.
"I have been receiving a lot of messages from Pakistanis from across the world… they are embarrassed at how Pakistan's prime minister was treated during Trump's visit to Saudi Arabia," the PTI chairman was quoted as saying by Pakistan-based The Express Tribune on Tuesday.
He also lashed out at Sharif for remaining silent when Trump spoke of isolating Iran.
"Nawaz Sharif lost a big opportunity and the Pakistani people are extremely disappointed. If he didn't take a stand on what the Pakistani nation wants, then why he even bothered going there," Imran was quoted as saying by The News International.
"Iran should have been a part of the Islamic military alliance and that differences between Muslim countries must be bridged, not widened," Khan added.
"The Pakistan PM wasn't allowed to speak at the event, even as leaders of some small countries put forward their views on terrorism," a report published in another Pakistan daily 'The Nation' said.
"The popular sentiment among the majority of Pakistani media delegation was that of a total humiliation of the sole Muslim nuclear power because not only there was no mention of Islamabad's role against global terrorism but also the prime minister of the "frontline state" was denied the opportunity to put forth its point of view." the report said.
Daily Pakistan, another newspaper, also bemoaned how the country was neglected at the summit where 55 Muslim-majority nations also participated. "Leaders, who are not even facing menace of terrorism, were given chances to present their views, but Pakistan was neglected," the daily reported.
On Sunday, Nawaz Sharif left for Saudi Arabia, on the invitation of Saudi King Salman Bin Abdul Aziz Al-Saud, on a two-day visit to attend the US-Arab-Islamic Summit in Riyadh.
Source:TOI