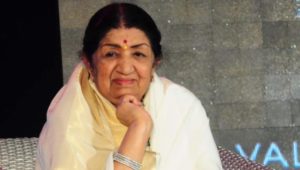 Happy Birthday Lata Didi
New Delhi, Sep 28: Prime Minister Narendra Modi on Wednesday wished one of the best-known and most respected playback singers in India, Lata Mangeshkar, on her 87th birthday. "Spoke to Lata (Mangeshkar) Didi and conveyed birthday greetings to her. I pray for her long and healthy life," Modi tweeted.
Lata began singing and acting in her father Deenanath Mangeshkar's musical plays when she was only five. On her first day to school, she started giving music lessons to other children and when the teacher asked her to stop, she felt so offended that she decided not to go to school ever. Other sources cite that she left school as she would always go to school with her younger sister Asha, and the school would object to it.
When Lata Mangeshkar was only 13 years old, her father died of heart disease and she became the sole breadwinner of the family. She struggled to establish herself as a singer in the 40s and recorded her first song in a Marathi movie Kiti Hasaal (1942). The song was later omitted from the movie. She moved to Mumbai in 1945 but

One of her most memorable concerts is where she sang 'Ae mere watan ke logo' in 1963, in the memory of the Indian soldiers who died in the Indo-China war. She performed the song in front of the then Prime Minister of India, Jawaharlal Nehru, which moved him to tears. In 1974, she became the first Indian to have performed in the Royal Albert Hall, London, UK.