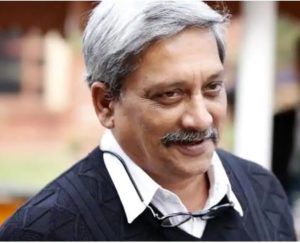 Goa chief minister Manohar Parrikar died at his Panaji residence on Sunday evening just over a year after he was detected with cancer.
"Extremely sorry to hear of the passing of Shri Manohar Parrikar, Chief Minister of Goa, after an illness borne with fortitude and dignity," President Ram Nath Kovind tweeted.
Hours earlier, Parrikar's office had tweeted that his condition was "extremely critical" and "doctors are trying their best".
Parrikar was suffering from advanced pancreatic cancer and had been in and out of hospitals in Goa, Mumbai, New York and New Delhi over the past year.
Described as Goa's tallest leader in decades, Parrikar was the first BJP chief minister of the picturesque coastal state back in 2000. When he resigned as the Union Defence Minister and took charge of the state in May 2017, it was the fourth time that he was sworn to the CM's office. He never did get an opportunity to govern the state for the assembly's full term of five years.
His last term as chief minister was cut short when he was given the Defence Ministry portfolio in November 2014. Parrikar was jubilant when he got an opportunity to head back home a little over two years later. He had for weeks been talking about how had missed Goan food in Delhi.
BJP President Amit Shah: Manohar Parrikar ji is no more with us, it's not only a loss for BJP but also for the society. From modernization of the forces to the first surgical strikes under PM Modi's leadership, he gave a good account of his administrative qualities.
The cremation of late Goa Chief Minister Manohar Parrikar will take place full state honour on Monday evening.
 The funeral procession will be taken from Kala Academy, Panjim, at four in the evening and last rites will be performed at five in the evening at Miramar.
 Parrikar's mortal remains will be kept at the BJP head office, Panjim, between 9:30 am to 10:30 am and would be moved to Kala Academy for the public to pay their last respects. The public can pay homage to Parrikar from 11 am to 4 pm.