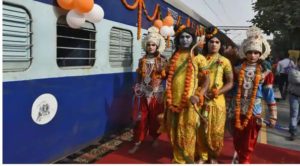 NEW DELHI:  The Shri Ramayana Express, a special tourist train to run on the Ramayana circuit to cover major spots related to the Hindu epic was flagged off on Wednesday from Safdarjung Railway Station in Delhi. The train will complete its journey till Rameswaram in Tamil Nadu, in 16 days covering all important destinations associated with the life of Lord Ram. On day one, the Shri Ramayana Express departed with 800 passengers.
A traditional welcome of garlands and tilak, and people dressed as characters from the Ramayana, chanting Jai Shri Ram, greeted passengers at the Safdarjung railway station
After leaving Delhi, Shri Ramayana Express will make its first stop in Ayodhya followed by Hanuman Garhi Ramkot and Kanak Bhawan temple. The train will then cover the important destinations of Ramayana circuit such as Nandigram, Sitamarhi, Janakpur, Varanasi, Prayag, Shringverpur, Chitrakoot, Nasik, Hampi and Rameshwa
The Shri Ramayana Express tour package will cover all meals, accommodation and wash and change facilities in dharmashalas, all transfers and sight-seeing arrangements.The Indian Railway Catering and Tourism Corporation (IRCTC) will run the train, which will cover Ayodhya, the birthplace of Ram, according to the Ramayana. They will also go to other locations mentioned in the epic, such as Hanuman Garhi, Ramkot and the Kanak Bhawan temple.