Indra Travel and Incredible India  on 20th Sept 2018 celebrated "India " as a Tourism Destination with Corporate Clients at the prestigious Mint Leaf Restaurant- The Strand.
Over 120 distingusted Guests were invited to take part in "Celebrating Majestic India"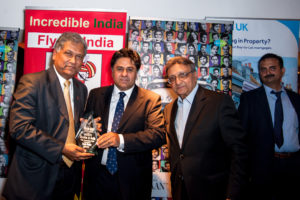 Debashish Golder Air India, Suresh Kumar Chairman Indra Travel,  Dino Bhadesha CEO Mint Leaf
Guests included Mr Neeraj Dhingra UK Head of ZEE TV, Mr Sanjay Anand CEO of Madhus, Mr Sadananda Naik,  Mr Rakesh Gandhi and Ankur Sareen from Panjab National Bank. Mr Sandeep Rana and Mohit Sharma from VFS Global- Indian Visa , Mr & Mrs Dalip Puri, Mr & Mrs Bobby Walia, Mr Vasudev Tuli and Dapinder Suri of Colours TV UK, Mr Lokesh Kumar CEO Export Import Bank of India, Mr Ramesh Arora Managing Director The Montcalm Hotel Group, Mr Debashish Golder Regional Manager Air India UK & Europe. Mr Rashmi Thakur and Neera from Uzbekistan Airways, Mr S C Aman State Bank of India, Manik Dey CEO Ontrack Systems and Radio Bangla. Mr Manish Tewari CEO Hare & Now Media, Mr Amarpal Gaind UK Head Saregama HMV,  Mr Rajan Sawhney CEO Zen , Daljit Singh – Interglobe Enterprises , Mr Dino Bhadesha CEO Mint Leaf and many more.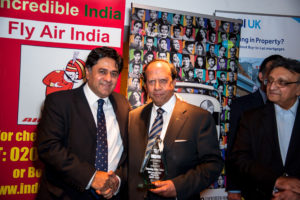 Suresh Kumar Chairman Indra Travel , Ramesh Arora MD Montcalm Hotels Group , Dino Bhadeasha CEO Mint Leaf
Indra Travel , was set up after the loss of The Chairmans beloved Mother, Indra Sanger Bhardwaj, Indra Travel have been established since 1981, some 37 years and feel proud and honoured to be promoting India and its Cultural Hertitage. We are thankful to all our supporters and clients, who have given us so much love and pride. We have recently been appointed  Main Distrubutor for Saregama Carvaan Radio Sets and are glad to offer them for sale online or through our offices at Manor Park.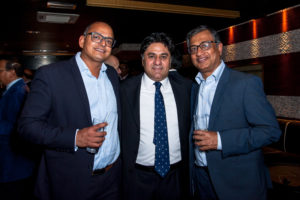 Sandeep Rana VFS Global Suresh Kumar , Manik Dey
Suresh Kumar Chairman Indra Travel and the Event Co-ordinator said " Celebrating India and its Culture is vital and our Guests all play a crucial role in promoting  Tourism to India.Many of us have our roots very much in India and still have family and friends that keep us connected in one way or another. Its vital that the coming generations stay connected to India."  
Awards of Merit were presented to Key individuals who play a major role in Promoting Majestic India; Mr Ramesh Arora MD Montcalm Group of Hotels, Mr Debashish Golder Regional Manager  Air India UK & Europe and Mr B B Mukerjee Director Indian Tourism UK, Europe.
There is much change anticipated in India, under the Leadership of PM Narendra Modi and to make India Safe and Secure needs to be a priority for the Government of India, and only then will our efforts in promoting India Tourism prevail.