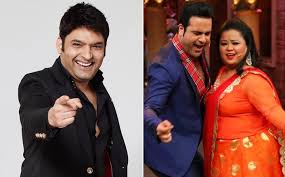 Kapil Sharma fans have every reason to rejoice after the comedy king announced his return on TV in a statement to an online portal recently.
Now according to a recent report, Kapil has been roped in for a comedy show along with Krushna Abhishek and Bharti Singh. A source associated with the project said that they did not want to burden Kapil with the sole responsibility of running a show, and hence he will be seen with Krushna and Bharti.
While Krushna and Bharti Singh came on board earlier, the makers have now decided to rope in Kapil, too. The trio will be working together after many years, since they branched out post 'Comedy Circus'. It will be a comedy show, but different from what they have done so far. They will perform gags and also chat with celeb guests on the show. We don.t want to burden Kapil with the responsibility of running a show on his shoulders, yet.
The comedian in a statement has said that he is planning to bring back The Kapil Sharma Show soon, and is currently working on his fitness.
"I can assure my fans that I will be back soon with another season of The Kapil Sharma Show. The show has the same effect on the viewers and it would really love to take it forward. However, it is at a very initial stage, Kapil told Peeping Moon portal in a statement.He even talked about his health and said that he is taking care of himself. "For lots of reasons, my health was not in good condition. But now, I have started taking good care of my health and I am recovering too. I had gone for a small vacation and spent good quality time with my family members. This has helped me too in the recovery," he added.