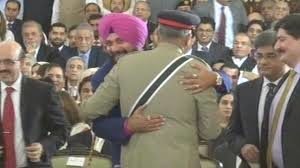 Cricketer-turned-politician Navjot Singh Sidhu visited Pakistan to attend Imran Khan's swearing-in ceremony as the Prime Minister of Pakistan.
Navjot Singh Sidhu, now a Cabinet minister of Punjab, had duly sought and got clearance from the Centre to attend the ceremony but the other two  invitees,  Sunil Gavaskar and Kapil Dev, refrained from accepting the invitation.
At the ceremony General Bajwa had walked to greet and hug Sidhu, whilst he reciprocated the gesture by hugging the Pakistan Army chief twice.
General Bajwa informed Sidhu that there was a  proposal to provide free access to Sikh devotees to a historic gurdwara just three kilometres inside Pakistan. The gurdwara called Gurdwara Kartarpur Sahib near Gurdaspur, is one of the holiest of holy shrines for the Sikhs as Guru Nanak Dev, their first guru, had spent his last days in that particular Gurdwara. His 550th birth anniversary falls next year and Sikhs have been demanding a free corridor to enable them to pay obeisance.
Sidhu said he was not expecting the announcement of such a gesture and spontaneously hugged General Bajwa for it. He told Pakistan media: "Imran Khan, my dear friend, has said they will walk two steps if one step is taken by India. I will make efforts to convince authorities in India to take that first step. Both the Punjabs can earn great profit by opening borders," he said.
The BJP has, criticsed Sidhu  and the Party spokesman Sambit Patra, demanded Sidhu's suspension from Congress, said, :It is not an ordinary thing. Sidhu is not an ordinary man but a minister in the Punjab government. Every Indian has taken this issue very seriously."
Patra also asked whether Sidhu had taken permission from his party chief Rahul Gandhi for the same.
The Congress has disassociated itself from the visit saying it was a personal visit by a friend of Imran Khan.