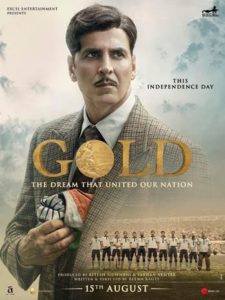 Foot tapping music, crazy lyrics, a hook step and Monabina make this song pure 'Gold'. Watch the song here .
Megastar Akshay Kumar shared the latest song 'Monobina' from his film 'GOLD' which is set to release on Independence Day August 15. The song takes place in a wide hall and has foot tapping music given by Tanishk Bagchi. 
A group of foreign girls perform on stage and as the song begins Akshay Kumar, who plays the role Tapan Das, joins in with his entourage and dances, trying to bring his wife Monobina, played by Mouni Roy, to the dance floor as well. 
The playful interactions between Akshay Kumar and Mouni Roy are depicted in the song, as the Indian group enjoys themselves at an event hosted by foreigners.
Monobina is sung by Yasser Desai, Shashaa Tirupati, Monali Thakur and Farhad Bhiwandiwala and the male and female voices complement each other to give a melodious song with lyrics given by Vayu.  
Akshay Kumar described the song as "Foot tapping music, crazy lyrics, a hook step and Monobina make this song pure Gold!"