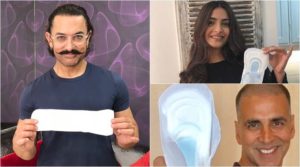 2018 has been a monumental year for menstrual hygiene awareness and campaigning. From new movements to even a major feature film on periods, PAD MAN, the need to smash the stigma and tackle the taboos surrounding menstruation reached a new pinnacle, even reaching the conscience of the public to policy makers.
 Following a meeting of the Goods and Services Tax (GST) Council on Saturday 21st July, the Indian government has announced that sanitary pads will be exempt from GST, making the cost more affordable for women across India.
 Sanitary napkins were taxed at 12 per cent tax under the one-year-old GST regime, which received widespread criticism. The cost of sanitary pads coupled with the taboo surrounding menstruation has led to women living in shame to health repercussions a result of using unhygienic alternatives to sanitary pads such as hay and ash.
 Earlier this year, the release of Pad Man was successful in mainstreaming the discussing of menstruation in India and encouraging both genders and all age groups to step forward to commence a discussion. The impact of the film and the movement it launched reverberated within the government, media and on a grass-root level.
 Akshay Kumar, Indian megastar and actor-producer of Pad Man, took to social media to express his views on the GST Council's decision. He said:
"One of those days when a news brings tears of joy as a cause close to your heart gets fulfilled. Thank you, #GSTCouncil, for understanding the need for menstrual hygiene & exempting sanitary pads from tax. I'm sure crores of women in our country are silently sending gratitude ur way".
 Other breakthrough initiatives launched this year to raise awareness of menstruation include:
Availability of sanitary pads at Railway Stations: The Railway Board of India has introduced sanitary pads to be sold at toilet facilities both inside and outside railway stations for not only the passengers but also the people living in its vicinity;
 The launch of Pad Banks in Maharashtra, Uttar Pradesh and several other states to enable easy access to sanitary pads for women and girls;
 Political initiatives: the Minister for Women and Child Development, Maneka Gandhi launched the #YesIBleed social media campaign and Maharashtra chief minister Devendra Fadnavis launched a scheme to provide rural women with sanitary napkins at subsidised prices;
Availability at Cinemas: Sathyam Cinemas, a South Indian Cinema chain, begun installation of free sanitary pad vending machine in its locations when the film was in cinemas.Better menstrual hygiene at Hospitals: several hospitals in Mumbai are also due to receive sanitary pad vending machines.