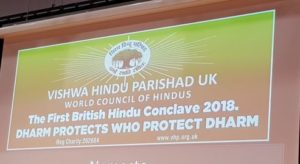 Vishwa Hindu Parishad UK organised successfully First British Hindu Conclave 2018 at posh Bushy Academy, Bushy, Hertfordshire on Saturday 21 July.  The day long deliberations were ably conducted by Professor Nawal Prinja and Dr Kakkar.  Dr Tribhovan Jotangia chaired the congregation which was attended by well over 130 delegates representing 30 Hindu organisations of UK.
To highlight the contribution made by British Hindus to the UK
To identify the issues being faced by the British Hindus in the UK
To achieve a consensus view on short – term and long – term actions to be taken.
The Conclave was addressed by a galaxy of personalities from various sectors on variety of specialised subjects!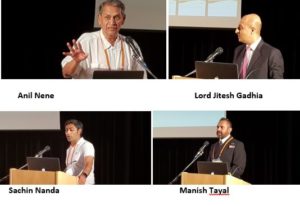 The Main speakers included:
1.Manish Tayal MBE: "British Hindus in the Armed forces"
2.Keith Vaz MP              "Is British Hindu Minority being side-lined?"
3.Jayesh Jotangia:          " Impact of UK laws and regulations on Hindu minority"
4.Prof. Pawan Budhwar    "Role of Hindus in British Academia"
5.Sachin Nanda                  "How Hindu Philosophy can help modern Britain"
6.Anil Nene                        "Misrepresentation of Hindus in British Media"
7.Dr. Aruna Bhalla               "Contribution of Hindus to NHS"
8.Prof. Sunil Poshakwale   "Contribution of Hindus to British economy"
9.Ramesh Pattani              "UK Adult Hindus, Religiosity & Mental Wellbeing"
10.Lord Jitesh Gadhia           "Hindu representation in British Politics"
11.Chandrakant Sharma      "Challenges facing Hindus: Open & Hidden"
Lord Jitesh Gadhia talked on Hindu representation in British politics, why Hindus need to join main stream politics while Rt Hon Keith Vaz, MP, addressed to the better facilitation of interest between the British Hindu communities and the Authorities.  Commander Manish Tayal, MBE, the Royal Navy, in full uniform, narrated about the Hindus in the British Armed Forces and why Hindus should join the British Armed Forces and how, why to support Hindu brothers and sisters in the Armed Forces.
Young Hindu activists, born and brought up in the UK, such as Jayesh Jotangia highlighted the impact of UK laws and regulations on Hindu minorities vis -a – vis other faiths.  Dr Sachin Nanda, PhD (Oxon) described how Hindu Philosophy can help modern Britain!
Professor Pawan Budhwar highlighted the role of the Hindus in the British Academia.  It was indeed heartening to know that there are 5000 Hindu Academicians in the British Education System.  He and Professor Sunil Poshakwale emphasised the need of collecting data of every Hindu activity, statistics and documentation.  Professor Poshakwale talked on financial and economic contribution of Hindus to the British economy.

UK HSS Pracharak Chandrakant Sharma unfolded the grave, open and hidden challenges being faced by Hindus in India and outside.  His revelations of severity of these challenges was astonishing. While Ramesh Pattani narrated the religiosity and mental wellbeing of Hindus.
I am still wondering why I was invited, included in this galaxy of learned speakers?!  Anyway, I got the "Aadesh" and accordingly I highlighted the misrepresentation of Hindus, Hinduism in the Western print, audio-visual and digital Media in general and the British Media in particular.
Along with the intellectual diet, organisers saw that delicious food and drinks also satisfied every delegate!  Lively Q & A session, vote of thanks delivered by Vinaya Sharma concluded the conference.  I believe every delegate enjoyed the conference.  I also believe the objectives of the Conclave were fully realized.
ANIL NENE