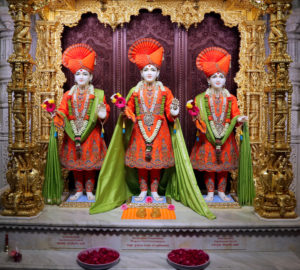 In what used to be a rural part once upon time in NE London the village of Chigwell, now home to expensive homes and their discerning well to do residents are fortunate to have the presence of a new temple.
This is not an ordinary temple but belongs to a great institution BAPS (Bochasanwasi Akshar Purushottam Sanstha), well known all over the world supported by dedicated volunteers and worshippers. The Neasden temple in NW London is now featured in travel sites for visitors, coach loads doing so on a daily basis. The Sanstha originated from Bhagwan Swaminarayan, followed by Gunatitanand Swami, Bhagatji Maharaj, Shashtriji Maharaj, Yogiji Maharaj, Pramukh Swami Maharaj and now headed by Mahant Swami Maharaj who established the Chigwell temple on 8th October 2017.
The building was a former school, tastefully refurbished by a local Indian contractor Vascroft employing diligent craftsmen to bring the ambience and spiritual experience one enjoys whilst visiting the temple. The official opening took place on 9th June 2018 under the auspices of Shri Anadswarup Swami (Mahant, BAPS Akshardham Gandhinagar, India). The hallmark of any BAPS event is the discipline, timing, cleanliness and enthusiasm not only of regular worshippers but younger participants.
We partook Vedic Mahapuja, listened to beautiful discourses by the Swamis and tasted homemade food among some 2,000 visitors gracing the occasion. Local councillors were garlanded as were the Chief Police Inspector and his deputy. Point was made about the close co-operation between the Police and Security services to ensure safety of the temple and visitors. Many of you may remember the callous attack on the Gandhinagar temple is not dissimilar to the London bridge terrorists who hailed from south Ilford, East London. Mandir, according one of the Swamis is where one is able to worship safely, complain at will to the God and meet likeminded people. Late Shri Pramukh Swami Maharaj spread headed construction of temples abroad especially starting from Neasden then 70 other locations. I have been fortunate enough to visit the ones in Toronto, Chicago and LA and one can identify the same theme, dedicated worshippers, serenity pureness, kindness of the Sadhus and eager helpers from the moment you enter the temple grounds to the inner sanctum. It is also a tradition in these temples to hold 'sabha' assembly where one listens to discourses from the learned sadhus.
The aarti times are 07:30 am and 07:30 pm every day and the main Sabha will be held on Sunday mornings. East Londoners are lucky to have a place on their doorstep founded by hard working supporters of the Sanstha which is dedicated to improve society through individual grown, foster the Hindu ideals of faith, unity and selfless service.
DeshPremi