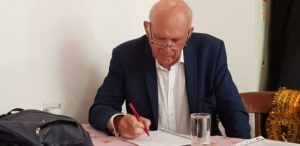 India Welfare Society hosted a lunch for Sir & Lady Vince Cable leader of LibDems at the Chutneys Restaurant on the 9th June 2018.
Sir Cable spoke about UK-India relationships, Brexit & after effects and UK-India trade agreement. is Here under are the highlights:
1.I first visited India in 1965 and during my stay, war broke out between India & Pakistan. Ironically, I was mistaken for a Pakistani Spy.  I have recalled those events in a novel that I have written.
 2. India has a trade policy to look inwards and so far, India has had trade agreements with the developing countries only.
3. UK is desirous of trade relations with India but India wants more visas which is not going to happen. Trade alliances between USA, Japan and China are disintegrating. So how we relate to India remains to be seen.
4. Commenting on Brexit, Sir Cable said "On the large, Muslims and Black communities voted to remain in the EU but Indians were split to follow Priti Patel and to some extent Jeremy Corbyn"
5. World politics is changing and its all about Nationalities, identity and cast. In India it is the BJP