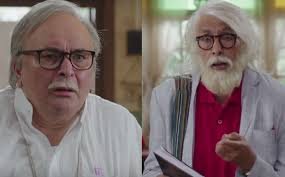 7 HOURS IS WHAT IT TOOK FOR AMITABH BACHCHAN AND RISHI KAPOOR TO GET INTO 102 NOT OUT LOOK 
 102 Not Out will see Amitabh Bachchan and Rishi Kapoor sharing screen space after a gap of 27 years. In the film, Bachchan will be seen playing Kapoor's father. Considering the fact that both the actors have to play their character more than their actual age, a lot of prosthetics and makeup was used to make them look like their character's age.
Director Umesh Shukla states that it would take his ageing protagonists a staggering seven hours of make-up every day. This would be followed by six hours of shooting. He says, "Initially, I thought they would get irritated with the long-winded process but the make-up actually helped them emote and complemented their characters really well. Both Amitabh sir and Rishi Ji would walk onto the sets at 5 am with a different kind of energy and we would commence shooting after lunch and go on till 6 pm. At times, the shoot extended to 9 pm. But that mostly happened when we were in the midst of shooting a scene and wanted to can it in one shift for the sake of continuity," says Umesh adding that the film's team shot for nine nights in the 45-day schedule in Mumbai.
He further adds that while Bachchan's dentures were manageable, Kapoor's bald cap was a cause of concern. "Rishi Ji, who plays a 70-year-old character, would feel extremely hot in it. Whenever he removed it, and I am not exaggerating, it looked like he was sweating by the glass. He had to wear that cap for at least 12 hours every day," he revealed.
The film has been written by Saumya Joshi (director of the eponymous Gujarati play on which the film is based) and directed by Umesh Shukla.
 A Sony Pictures Releasing International Presentation and worldwide distribution – 102 Not Out, releasing on 4th May 2018, is Produced by SPE Films India, Treetop Entertainment and Umesh Shukla's Benchmark Pictures.
Official synopsis: 102 Not Out – is an ageless comedy that brings together Indian Cinema's two biggest stalwarts – Amitabh Bachchan and Rishi Kapoor after 27 years, with the two legends playing father-son duo for the first time.
 102 years young Dattatraya Vakharia (Amitabh Bachchan) lives life to the fullest and wants to break the record of oldest living man- that's held by a 118 years old Chinese. Dattatraya wants to live a stress free life in order to become the oldest living man. However, there is only one hinderance- his 75 year old son Babulal (Rishi Kapoor) who has resigned himself to a life of old age stuck in drudgery. Dattatraya now must find means and ways to change Babulal's sad and grumpy demeanour so that he doesn't become a deterrent in breaking the record. Little do they realise that this roller coaster ride filled with comedy, emotion and commotion, will change them and their relationship forever.